Burundi ombudsman Mohamed Rukara 'finds plot to kill him'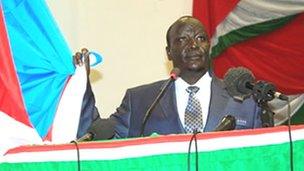 Burundi's ombudsman, Mohamed Rukara, has uncovered a plot to kill him, his spokesperson has said.
"It is those who steal public money," Jerome Ndiho said, without providing any names.
As an independent watchdog, Mr Rukara investigates alleged violations by state officials, including corruption and "targeted killings".
Local groups say the Burundi government shields corrupt people and has failed to tackle political violence.
Burundi is struggling with the effects of a 12-year, ethnic-based civil war, which officially ended in 2005 - and political violence has escalated in the wake of disputed elections in 2010.
A local rights group, APRODH, has recorded more than 160 killings this year, blaming the security services for many of them.
The New York-based rights group was banned from holding a press conference in the capital, Bujumbura, about its report.
The authorities have said such claims are exaggerated and blamed most of the deaths on armed bandits.
The BBC's Judith Basutama in Bujumbura says people are very worried about the spate of unsolved murders and blame the government for not doing enough to stop the political violence.
The UN has also condemned the Burundian government's failure to tackle "targeted killings".
Mr Rukara took office as the country's first ombudsman in early 2011 after being elected by parliament - almost a decade after the institution was set up under the terms of the country's first peace deal.
He takes the threat of assassination seriously, his spokesman told reporters.
''The ombudsman said that if they kill him, he asks not to be buried before physicians carry out an autopsy to know the cause of his death, and that DNA tests be used,'' Mr Ndiho said.
Mr Ndiho says he will provide further details of the plot over the next few days.
Some 300,000 people are said to have been killed in Burundi's civil war between the minority Tutsi-dominated army and ethnic Hutu rebels.
The conflict officially ended in 2005 with a peace deal which saw former rebel leader Mr Pierre Nkurunziza elected president.
Burundi's last rebel group officially laid down its arms in 2009 but sporadic attacks have continued and many opposition members have been driven into exile.
Related Internet Links
The BBC is not responsible for the content of external sites.