Nigeria lead poisoning: MSF urges government to do more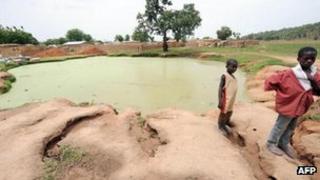 The charity Medecins Sans Frontieres (MSF) has called on the Nigerian government to do more to deal with a deadly outbreak of lead poisoning.
In 2009 it became clear that hundreds of children in the northern state of Zamfara had died from exposure to lead.
They were poisoned by dust released by gold miners breaking open rocks near their homes.
The charity says 4,000 other children remain contaminated with many of them unable to get treatment.
"One thousand five hundred children are currently lead-poisoned but are not receiving treatment because it is impossible to deliver effective treatment while they still live in contaminated homes," MSF 's head of mission in Nigeria, Ivan Gayton, said.
In November the Nigerian government said it would spend more than $5m (£3m) cleaning up Zamfara, and in some areas this work has already begun.
At a two-day conference in Abuja, Human Rights Watch noted that the government had not sent senior officials and suggested this underlined the fact that authorities were not taking the situation seriously enough.
Doubling of gold prices
MSF says although the government has started a clean up it must do more to stop people mining.
The outbreak began after the price of gold shot up and villagers realised they could make more money from exploiting local gold deposits than from farming.
They carried rocks home to break them open - but as well as gold the rocks contained high levels of lead, so poisonous dust and flakes were released into the community.
Contaminated soil was also dumped in water sources and there were fears that rain would also spread pollutants.
Exposure to high levels of lead can damage the brain and nervous system, and in severe cases cause seizures, coma and death.
MSF says the situation in Zamfara is one of the worst ever cases ever, if not the worst case, of lead poisoning, killing 460 children and contaminating a further 4,000.
The BBC's Nigeria correspondent Will Ross says since the problem first came to light about three years ago the price of gold has almost doubled.
More and more people have turned to mining despite the health risks to their families.
Although the authorities have told people to stop mining, MSF wants to see better education in place to teach people of the health risks.
"It is possible to do the environmental remediation and it is possible to do safer mining... we need not die in search of livelihood. It can be done safely," Mr Gayton said.