South Sudanese refugees begin journey to Juba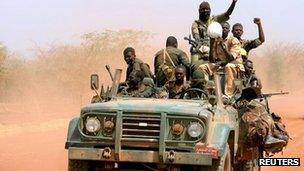 The first group of South Sudanese refugees stranded for months in a camp in Sudan is on its way to the south.
About 400 people - out of a total of up to 15,000 - are being taken by bus to Khartoum from where they will be flown to the South Sudanese capital Juba.
The camp residents were last month declared a security threat by the authorities, who gave them a deadline to leave Sudan. This was later dropped.
They lost rights to Sudan nationality when the south seceded last year.
The airlift comes a day after UN human rights chief Navi Pillay condemned Sudan's bombing of South Sudan, carried out despite a UN resolution demanding an end to hostilities.
South Sudan seceded last July as part of a deal to end years of civil war.
But disputes stemming from the secession, especially over oil, led to clashes last month and fears of a return to all-out war.
On Wednesday, South Sudan accused its neighbour of continued bombing raids. Khartoum said it had the right to respond to acts of aggression.
The group of South Sudanese is being taken to Khartoum from Kosti in White Nile State, about 300km (190 miles) south of the capital.
They will be flown out of Khartoum early on Sunday morning after spending the night at a government transit centre, International Organisation for Migration (IOM) head Jill Helke told AFP news agency.
The IOM says the 15,000 have been stuck in Kosti for anything up to a year, after boat traffic south was cut because of cross-border violence.
They have been living in makeshift shelters and are entirely dependent on aid agencies as they wait for transport.
"Part of the problem has been that in the period since independence, although the people were supposed to be given a choice to leave or to become legalised, there have not been the arrangements available for people to legalise their stay in Sudan," Ms Helke told the BBC.
"And so for many the lack of choice has made them decide that going to South Sudan is their only option."
Correspondents say many of the group have never been to South Sudan, so settling there is likely to be a challenge.
Many have relatives in the south and the IOM and other humanitarian agencies will be providing some help, the aid agency said.
Hundreds of thousands of South Sudanese left Sudan after the south seceded, but about 350,000 remain.
Related Internet Links
The BBC is not responsible for the content of external sites.