Boko Haram 'militant leader' captured in north Nigeria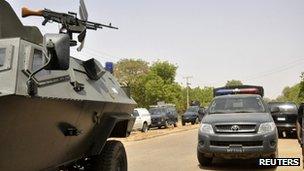 Nigerian police say they have arrested a senior commander of the Islamist militant group Boko Haram.
The group has carried out numerous attacks across northern Nigeria, killing hundreds of people.
The detainee, Suleiman Mohammed, is said to be a Boko Haram commander in the northern city of Kano.
It has been the scene of several deadly attacks, including one on a church service two weeks ago that left 16 people dead.
Another attack in January killed more than 180.
It has, however, been impossible to independently verify whether or not Suleiman Mohammed is indeed a key figure in the Boko Haram group, the BBC's Will Ross reports from Lagos.
The commissioner of police for Kano State said the man was with his wife and children in what he described as a hideout in Kano when he was arrested.
Explosives, ammunition and guns were found there, police said.
The suspect has been flown to the capital, Abuja, for questioning.
Related Internet Links
The BBC is not responsible for the content of external sites.