South Sudanese refugees flown home from Khartoum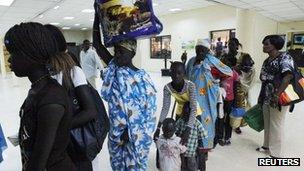 The first planeload of refugees stranded for months in a camp in Sudan has arrived in South Sudan.
The 164 people have arrived in Juba after flying from Khartoum, where they had been taken by bus from their camp.
They are among up to 500,000 southerners who lost their Sudanese nationality when South Sudan gained independence last year.
The two countries have recently come close to all-out war, particularly in oil fields near their common border.
Those who have flown home are part of a group of some 15,000 southerners stranded in Kosti, White Nile state. They were initially told they must leave Sudan by 5 May, before the deadline was extended until 20 May.
Sudan's authorities refused to let them travel south by barge, citing security concerns, so they instead travelled the 300km (190 miles) north from Kosti by bus over the weekend to Sudan's capital, from where their flights departed.
Since South Sudan gained independence, thousands of southerners have been sacked from Sudan's civil service.
One of those who boarded the first plane told AFP news agency she had never been to her "homeland" before.
"It is my first time to the South. I was born here," said Cecilia Peter, 27, who had been sacked as a teacher.
Some of the refugees are said to be concerned that they had to leave their luggage behind in Kosti.
A special camp has been set up for the returnees near the South Sudan capital, Juba. They will then be dispersed to their areas of origin, AFP reports.
More flights are scheduled in the coming days, according to the International Organization for Migration.
South Sudan, where most people are Christians or follow traditional religions, gained independence after decades of conflict with the Arab-dominated, mainly Muslim north.
Several million people went north during the conflict - either fleeing the fighting or to seek work.
Hundreds of thousands went home to vote in the 2011 independence referendum but some half a million remain.
The two countries are still negotiating about whether they will be allowed to stay in Sudan or if they will all be forced to go to the South.
There are also believed to be some 80,000 Sudanese living in the South.
Related Internet Links
The BBC is not responsible for the content of external sites.