African viewpoint: Should tributes to the dead be honest?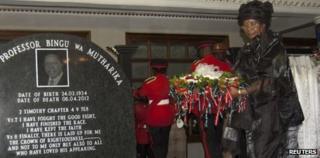 In our series of viewpoints from African journalists, Elizabeth Ohene ponders the nature of obituaries and what a fitting tribute means for Africa's former leaders.
I know you are not supposed to speak ill of the dead.
I remember how shocked I was when I got off the plane in Lagos a day after the Nigerian military dictator Sani Abacha had suddenly died.
I was confronted with a newspaper front page headline: 'Abacha dead, may he rot in hell'.
Okay, I thought, this man was not exactly the most popular man but surely that was overdoing it.
Having said that, I must confess that I have always felt most uneasy when I have sat in a burial service, listening to tributes being paid to the dearly departed and hardly recognising the person being described.
My view has always been that if telling the truth about a dead person means that he is portrayed as the charlatan that he was, then it is better to be quiet than to heap undeserved praise simply because the person is dead.
'Champion of democracy'
Mindful of the fractious state of affairs that existed between the late Malawian President Bingu wa Mutharika and his then Vice-President Joyce Banda, I followed the conduct of that funeral with keen interest.
The new president rose to the occasion in a most admirable manner.
You would never have guessed that for a long time these two had not passed a civil word between each other.
That she accorded the fallen president every honour in the book was to be expected, Mrs Banda oozes dignity, but the eulogy surely went over the top?
Suddenly, the man who until his dramatic cardiac arrest had been in the headlines for his dictatorial tendencies, for trying his best to throw out his elected vice-president and unleashing the might of his security services against unarmed demonstrators, had became a champion of democracy.
Re-writing history
With this recent funeral in mind, I have been updating some obituaries.
Here lies Hosni Mubarak, a modern pharaoh who led his people with the most delicate touch, he will be remembered forever for bringing the military under the control of the civilian political leadership.
Here lies President Yoweri Museveni, he fought against tyranny in Uganda, single-handedly rebuilt his country and became an expert in governance by redefining the concept of clinging to power.
Here lies South Africa's former President Thabo Mbeki, he defeated apartheid, was defeated by his party whilst on an African renaissance project and went on to fabricate two Sudans that have undying love for each other.
Here lies President Jacob Zuma, he danced his way into the presidency and built the biggest monastery in South Africa where he lived a life of celibacy.
Here lies Abdoulaye Wade, he fought for democracy and knew when to step down before being disgraced at Senegal's polls.
Here lies Prime Minister Meles Zenawi, Ethiopian freedom fighter, he peacefully gave away half his country and spent the rest of his life trying to find a suitable successor.
Here lies President Paul Kagame, he made all of his compatriots computer literate and all his best friends were Hutus.
Here lies Goodluck Jonathan, he made Nigerians pay the right price for fuel and made life easy for everybody by making it known the only birthday present he would accept was a hat.
Here lies John Evans Fiifi Atta Mills, he said he was in charge and he couldn't find a powerful enough priest to make the presidential palace safe for him to live in.
I have left instructions.
There should be no tributes when I go, but just in case someone insists: Here lies Elizabeth Ohene, she never once uttered a word that could possibly upset anybody in her long life.
If you would like to comment on Elizabeth Ohene's column, please do so below.