Ecowas threatens Mali coup leaders with new sanctions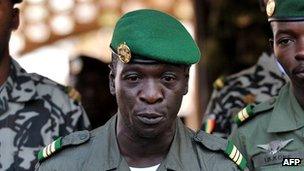 The West African regional bloc Ecowas has threatened to re-impose sanctions on officers who led a coup in Mali in March, accusing them of blocking a return to constitutional rule.
Ecowas lifted sanctions in April after the coup leaders agreed to hand back power to a civilian government.
But in a statement, the bloc said the junta was still interfering in the country's politics.
Ecowas objects to its plans to replace interim President Djouncounda Traore.
Mr Traore, the speaker of parliament, was sworn in as part of the deal under which the military would return the country to civilian rule.
Coup leader Capt Amadou Sanogo has called for a national convention composed of civil society groups to appoint a new interim government once Mr Traore's term officially ends on 22 May, ahead of fresh elections.
Ecowas wants Mr Traore to continue to lead the interim government for another 12 months.
"Failure on the part of the (junta) and their civilian allies to clearly reaffirm their commitment to the transitional arrangement in the next few days will be met with the immediate reinstatement of the targeted sanctions," the bloc said in a statement.
In March, middle-ranking army officers led by Capt Sanogo toppled President Amadou Amani Toure, accusing him of not doing enough to combat a Tuareg-led rebellion in the north.
After Ecowas imposed sanctions, the coup leaders agreed to start a transition back to civilian rule, and parliamentary speaker Djouncounda Traore was sworn in as interim president.
But the junta is widely thought to have maintained overall control.
It argues that a constitutional provision that says an interim president should only be in power for 40 days means another interim leader should be chosen to lead the country into elections.
Related Internet Links
The BBC is not responsible for the content of external sites.