Kenya: Man arrested over deadly attack on Mombasa club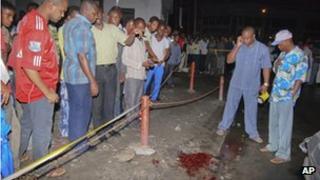 A man has been arrested on suspicion of helping to carry out an attack on a nightclub in the Kenyan port city of Mombasa, police have said.
He was one of five people injured after explosive devices were thrown into the popular club.
Armed men lobbed what are thought to be grenades - after they were denied entry to the club for refusing to be frisked by security guards.
No-one has claimed responsibility, and a gun was found at the scene.
Ammunition in luggage
"The suspect is one of those injured. He is now under police guard," said police chief Mathew Iteere in the Kenyan capital, Nairobi, adding that the police had been watching the suspect for some time "in connection with various other attacks".
He was hit by shrapnel from a grenade and taken to the hospital with other people injured during the attack, Mr Iteere said.
The man had booked a bus ticket for Nairobi to leave Mombasa soon after the attack late on Tuesday night, he said.
"We have retrieved a bus ticket from him and when our officers went to the bus station they found his luggage which had a magazine loaded with eight rounds of ammunition," Mr Iteere said.
The Bella Vista club is on a street known for its night life in Mombasa - a popular holiday destination for both Kenyans and foreigners.
A pool of blood marked the entrance to the club, and spent cartridges and grenade shells were strewn near its gate, reported Reuters news agency.
Regional police chief Aggrey Adoli told the AFP news agency that armed men tried to barge their way into the club but were barred by security guards.
They then fired off shots from their guns, critically injuring a guard, before throwing in explosive devices, he said.
Ambrose Munyasia, the region's top criminal investigation officer who was at the scene, told Reuters the evidence suggested three grenades had been thrown.
Another security guard, a woman, later died in hospital, police said.
Kenya has seen several hit-and-run grenade attacks in recent months in the capital, Nairobi, and in northern Kenya.
The Kenyan authorities often blame such attacks on al-Qaeda-affiliated al-Shabab rebels from neighbouring Somalia.
Kenya sent hundreds of troops into Somalia last year after a wave of kidnappings, including those of four Europeans on Kenyan soil, blamed on al-Shabab.