Congo 'Terminator' still forcing youngsters to fight, says HRW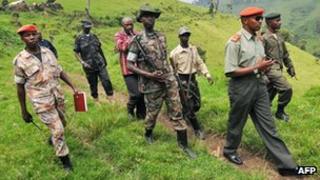 Renegade general Bosco Ntaganda, who is wanted by the International Criminal Court, is still forcing youngsters to fight, Human Rights Watch (HRW) says.
Over the past month nearly 150 young men and boys have been recruited in the east of the Democratic Republic of Congo, according to HRW.
Those who escaped talk of being taken at gunpoint from schools and villages.
Gen Ntaganda, also known as the Terminator, was indicted in 2006 by the ICC for using child soldiers.
Rounded up
The New York-based rights group says it has gathered evidence of young people - between the ages of 12 and 20 - being forcibly recruited between April and May.
The alleged recruitment took place in the aftermath of a mutiny from the Congolese army of troops loyal to Gen Ntaganda - former members of the National Congress for the Defense of the People (CNDP) rebel group, whose fighters were integrated into the Congolese army as part of a peace deal three years ago.
Gen Ntaganda denies masterminding the mutiny, which led to heavy clashes with the Congolese army in eastern Congo.
In one incident, near the village of Kingi, in Masisi district, about 30 students were rounded up from a school - their hands were tied and they were marched up a hill, a 17-year-old student told HRW.
"They told us we would fight for Bosco [Ntaganda]… They informed us that we would liberate our country by giving our support to Bosco Ntaganda," he said.
"Bosco Ntaganda is once again committing the very crimes against children for which the ICC has been demanding his arrest," HRW's senior Africa researcher Anneke Van Woudenberg said.
This week, the chief prosecutor asked the ICC to add more counts of crimes against humanity and war crimes to Gen Ntaganda's arrest warrant.
The new charges include the murder and rape of civilians.
Gen Ntaganda is believed to be hiding in DR Congo's Virunga National Park, home to mountain gorillas.
The Congolese government has refused to hand over Gen Ntaganda, saying that it now wants to put him on trial in the country for his role in fighting that broke out in late April in the North Kivu region between soldiers loyal to him and former CNDP rebels.