Congo's Bosco 'Terminator' Ntaganda 'will be caught' - ICC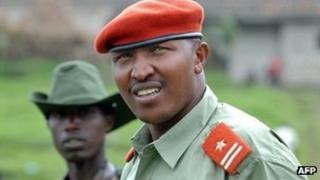 The International Criminal Court's chief prosecutor has said he is hopeful that a Congolese warlord will be arrested within weeks.
Bosco Ntaganda is wanted on charges of committing crimes against humanity.
Luis Moreno-Ocampo told the BBC that DR Congo and Rwanda both now believed that Gen Ntaganda should be arrested and his position was therefore "fragile".
Earlier, the UN said fighting in DR Congo had forced tens of thousands to flee into neighbouring states.
The head of the UN's humanitarian agency, Antonio Guterres, said an upsurge in fighting between the army and mutineers loyal to Gen Ntaganda had caused "disastrous" displacement within DR Congo and "now people in need are appearing in neighbouring countries too".
Some 30,000 Congolese refugees have passed into Uganda to escape fresh fighting that erupted on 10 May, the UNHCR quoted Ugandan officials as saying, while more than 8,000 Congolese have been registered in Rwanda since 27 April.
'Common understanding'
Mr Moreno-Ocampo said there was now a greater consensus about the crimes allegedly committed by Gen Ntaganda, known as "The Terminator" than when the ICC first issued a warrant for his arrest in 2006 on charges of recruiting child soldiers.
"My role as the prosecutor is to keep making the legal point and now there is more consensus that he should be arrested and therefore probably will be arrested," he said.
He said the primary responsibility for detaining the warlord lay with the Congolese army and that it could request UN and Rwandan support.
"I hope it is weeks," Mr Moreno-Ocampo said of Gen Ntaganda's arrest.
"I think he is in a fragile situation now and I think there is a common understanding that he should be arrested and then I think he will be."
Two days ago Mr Moreno-Ocampo said he was seeking to issue a warrant for the arrest of rebel leader Sylvestre Mudacumura and wanted to add fresh charges to that out for Gen Ntaganda.
Some Congolese officials have accused neighbouring Rwanda of supporting Gen Ntaganda, who previously fought with the rebels dominated by his fellow ethnic Tutsis, who are now in power there.
Gen Ntaganda denies masterminding a mutiny by former members of the CNDP rebel group, whose fighters were integrated into the Congolese army as part of a peace deal three years ago.
The Congolese government has until now refused to hand over Gen Ntaganda, saying that it now wants to put him on trial in the country for his role in fighting that broke out in late April in the North Kivu region between soldiers loyal to him and former CNDP rebels.