Housing Cameroon's diaspora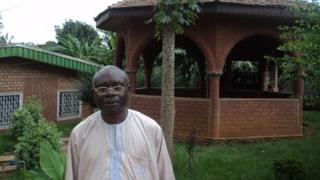 Spending many years living abroad as a diplomat gave Cameroon's Crecy Tawah the inspiration for what to do in his retirement - build houses for returning expats.
He looked at his assets and the possibility of developing the 25 hectares of land he had inherited from his father.
"I've travelled and worked as a diplomat in a number of countries and lived in well-planned neighbourhoods," he told the BBC's Africa Dream.
"I thought I could imitate that and bring that experience back home."
His plan was to build a low-cost, exclusive, gated community which would enable returning Cameroonians to replicate the lifestyle they have become accustomed to.
Mr Tarwah insists there is no contradiction in making both affordable and luxurious housing.
"Low-cost housing does not mean sub-standard housing," he told BBC Africa's Randy Jo Sa'ah.
"When you move in, you are convinced that these are high-end houses."
Made in Cameroon
In the competitive market of real estate development, Mr Tawah decided the best way to eschew the high cost of buying materials from Europe, China or the US was to manufacture them in Cameroon.
"The whole concept is to provide the kinds of materials that we can find locally and make construction safer and better for the community."
He started Aurora Building Materials Ltd in 2009 and now produces a range of building materials.
'We do sand cement products, fire clay products and we do stabilising compressor block products," he said.
A family affair
Despite these challenges, some might argue that his entry into private enterprise was made much easier by the 25 hectares of land he inherited, as well as his political ties.
But Mr Tarwah insists money is not the key to success.
"The issue's not so much capital, the issue is ideas."
He believes entrepreneurs who find getting the money needed to kick start their business dream their biggest challenge should look at as many sources as possible.
"If you have the right ideas, you talk to friends - that's one source of capital - you talk to a bank - that's one source of capital - credit unions, you talk to family - that's one source of capital.
"When I say talk, I mean getting them to come in and invest with you."
He sees business plans as an invaluable tool in the start of any business and encourages other entrepreneurs to have as many people as possible examine them.
"When you get your ideas reviewed and challenged, then you are sure by the time you are going into implementation that they withstand the test of time and withstand challenges."
His belief in self-determination and the power of original ideas has not stopped Mr Tawah from hoping to pass his fortune and business onto his children.
He says his eldest son has just graduated from university in New York and has spent some time working alongside him on the business in Cameroon.
He is almost 60 but feels confident that they will continue his dream.
"I have limited time to be here on earth so I expect my children to carry on with the things we are doing."
He says they already play a crucial role in the decision making process.
"When we are trying to introduce new products we discuss with them online, on Skype and by email. They are very supportive, it's a collective effort."
Planning ahead
His long term plans for the company now include a government contract to build new houses. Mr Tawah hopes this will prove mutually beneficial to his firm and the government.
"They will be tarring the access road, they will also be helping us obtain water and electricity and in exchange for that, we will be building 150 low-cost homes."
Today Aurora Building Materials Ltd has 60 employees, but he expects that this new government contract will mean that its workforce climbs to include between 150 to 200 people.
The risks of setting up another big venture at an age when most are thinking about how to spend their leisure time does not faze Mr Tarwah.
"Any venture by definition is risky and if you are not willing to put all your eggs in one basket in any given venture, then don't go in."
African Dream is broadcast on the BBC Network Africa programme every Monday morning.
Every week, one successful business man or woman will explain how they started off and what others could learn from them.