Niger malnutrition crisis spreading - Save the Children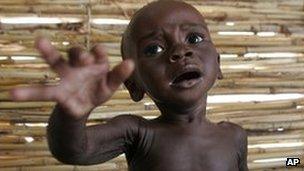 Months of warnings have failed to prevent a serious malnutrition crisis in Niger, Save the Children has said.
The charity says more than six million people are affected there, and about 18 million across West Africa.
It says a rising number of children now need medical treatment for the condition, as the crisis is reaching a new level of seriousness.
The charity says it is now moving to an emergency response.
Alarm bells have been ringing about Niger - with its record of severe food crises - since late last year after erratic rainfall threatened crop shortages and food prices also soared, the BBC's Mike Wooldridge says.
Aid organisations have been trying to mitigate the impact.
Overall, 25% of the world's children are suffering from chronic malnutrition - over and above the current food emergencies in Africa, Save the Children says.
It has expressed its concern that G8 leaders will shy away from making bold commitments to ensure not only that children have enough to eat, but also the right kind of food and nutrition.
Related Internet Links
The BBC is not responsible for the content of external sites.