Angola court removes 'MPLA' election head Susana Ingles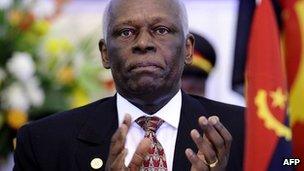 Angola's Supreme Court has blocked the appointment of the election commission head, seen as a close ally of President Jose Eduardo dos Santos.
Opposition parties, including former rebel group Unita, had challenged Susana Ingles's position.
She is a lawyer, whereas the head of the election body should be a judge.
Angola, Africa's second biggest oil producer, is due to hold elections later this year - the third national polls since independence in 1975.
Ms Ingles is a leading member of the Oma women's group, which is seen as close to Mr dos Santos' MPLA, so opposition groups said she would not be impartial.
The MPLA says it will "scrupulously respect the decision".
Unita had planned to organise a mass demonstration on Saturday to protest against her appointment.
In the only previous election since the end of Angola's 27-year civil war in 2012, the MPLA gained 82% of the vote.
Related Internet Links
The BBC is not responsible for the content of external sites.