Sudan releases four foreigner seized in disputed area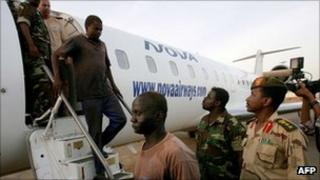 Sudan has freed four foreigners detained last month near the border with South Sudan, officials say.
Former South African President Thabo Mbeki, who mediated between the two states, thanked Sudan for the release.
The four - from the UK, Norway, South Africa and South Sudan - were held in the disputed area, scene of recent clashes between Sudan and South Sudan.
Sudan had said the men were suspected of aiding South Sudan - a charge rejected by the South.
War debris
The government in Khartoum on Thursday confirmed the release of the four foreigners.
Sudanese Defence Minister Abdelrahim Mohammed Hussein said: "We release them to President Mbeki."
The freed men then got into a vehicle, which was part of Mr Mbeki's motorcade, according to the AFP news agency.
The foreigners - whose names have not been released - were detained on 28 April.
Reports say they are de-mining specialists and were collecting war debris in the Heglig oilfield.
A United Nations spokesman in South Sudan was quoted at the time as saying that a staff member was among the group seized by Sudanese solider.
Mr Mbeki has been in Khartoum to try to bring Sudan and South Sudan back to the negotiating table following the recent clashes.
The fighting began in April when Heglig was occupied by forces from South Sudan.
They left about a week ago, after holding the area for 10 days.
The BBC's James Copnall says tension is still extremely high, and Sudan has been accused of carrying out a number of air raids on South Sudan this week. It denies the charges.
South Sudan became independent from Sudan after a civil war that lasted two decades and in which an estimated 1.5m people were killed.