Somaliland chief remembers start of Queen's reign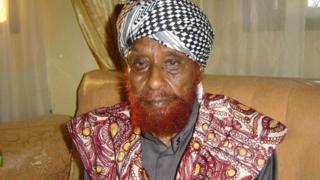 Somaliland's chief of chiefs became a tribal leader 12 years before Queen Elizabeth II assumed the throne and he has clear memories of the day she was crowned.
My name is Haji Abdi Hussein Yusuf also known as Haji Warabe. I am 115 years old. I don't know the exact year I was born, and I cannot read or write, but I know for sure that I am that age.
I remember the Queen's coronation extremely well. In fact, I remember the coronation of her father King George VI [in 1937]. My uncle attended the ceremony in London.
During the coronation of Queen Elizabeth there was a huge celebration in Hargeisa. The whole town was practically shut down and lots of congratulatory telegrams were sent.
I still remember that wonderful day. I have been to London twice but unfortunately I didn't meet the Queen on either occasion.
I first became a chief when Somaliland was a British protectorate. I worked closely with the British colonial officials, and was selected by them as the chief of chiefs. I worked very well with them for 20 years until independence in 1960.
I liked the British a lot, mainly because they brought peace to our land. When they first arrived, the clans were at each other's throats. We were killing and fighting each other, and the British put a stop to it.
To be honest, things didn't change much for me after independence. My chiefly powers stayed pretty much the same, as both the British and the Somali politicians wanted the same thing from me - advice.
I was born outside Hargeisa, the capital of Somaliland, in the area where the airport now is. At the time it wasn't a town at all - it was wilderness.
I have been a nomad since the day I was born and I have been a chief for more than 70 years, since 1940 to be precise.
I am now the chief of chiefs, the elder of elders. The most senior traditional leader in the whole of Somaliland. My nickname is Warabe which means hyena.
Nomadic life
When I was four years old, I started looking after baby sheep and goats. When I was a bit older, my job was to herd young camels into their pens. Then I graduated to herding the mature camels, the most magnificent of all Somali beasts.
Even though I am now too old to actively herd my livestock, I still consider myself first and foremost a nomad, and I visit my herds whenever I can.
Nomadic life has changed dramatically over the decades. It used to be just us, our animals and the wilderness.
Now villages, roads and vehicles get in the way of everything. People are ruining the environment by cutting down all the trees for charcoal.
I will never retire as elder of the elders. I want to continue for as long as I can - for as long as my brain functions properly. People continue to respect me and I respect them.
Please will you pass our felicitations, congratulations and heartfelt blessings to her majesty, in particular from the House of Elders here in Somaliland.
Haji Abdi Hussein Yusuf was interviewed by BBC Somalia analyst Mary Harper. It aired on BBC World Service's Newshour programme as part of series marking Queen Elizabeth's Diamond Jubilee. The series from 26 May to 1 June featured seven people from across the world who are over 60 and still working in their professions.