Championing Africa's food revolution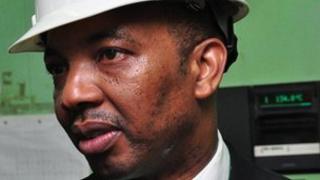 The quick and high returns of Nigeria's oil industry have led to it dominating the economy to the detriment of other sectors.
But Jite Okoloko saw an opportunity in the disarray of the agricultural sector to champion Nigerian farmers.
After seven years living in the United States Mr Okoloko returned to Nigeria and launched Notore Chemical Industries Ltd in 2005
He says he was dismayed by Nigeria's continued reliance on imported food and saw an opportunity to increase home-grown food production.
"Nigeria imports $3m [£1.9m] worth of rice - when we can grow all the rice we want, we are importing wheat when we can actually use cassava in making bread," he told the BBC's Africa Dream.
He says the government's neglect of the agricultural sector presented an opportunity for his firm to reawaken the industry.
"The government had run a fertiliser plant, badly. It was abandoned after it failed," he told BBC Africa's Tomi Oladipo.
He bought the the old assets of the plant but it needed a lot of work.
"We had shrubs and trees growing on steel pipes, major corrosion of underground pipes."
The poor quality of production on many African farms led him to believe that producing quality fertiliser was key to improving farming practices.
So how has Notore Chemical been able to fill the gap left by government to revive Nigerian agriculture?
"The private sector is in there to extract and maximise value, shareholder value - that's the whole essence of being in business."
"There's nowhere in the world, whether it's in the United States, wherever in the world, that the government has been able to run projects more effectively than private sectors."
The land of opportunity
Mr Okoloko decided to return to Nigeria in 1994.
Armed with a degree from Harvard Business School, one of the world's most prestigious universities, he headed back home at a time when many were going in the other direction.
"I was driven by the hunger of knowing that opportunities existed in Africa," he said.
"If you look at other developed markets most of the opportunities have been taken. Most of the value has been extracted, margins are tighter, growth is slower."
He says the exceptional rewards associated with doing business in Africa, made leaving the US worthwhile.
"It's either being ultimately a shareholder in what happens in Nigeria or in any of these emerging markets or lose that opportunity for the rest of your life."
Despite this potential, doing business in an emerging market was not without its risks.
"We are talking about how stable are the policies going to be there to continue to support growth, you know you're talking about what kind of infrastructures are there to support the expansion of the business."
Mr Okoloko began his Africa Dream by raising the capital needed to buy the plant through shareholders and eight commercial banks.
But he says ultimately turning a failed asset into a successful one came down to having strong human resources and understanding the challenges he might face.
"Getting in the right technical partners, getting in the right shareholders, being able to understand what the issues and the plans are, knowing the advantages and of course knowing the huge problems and challenges you're about to deal with".
A poor image
African populations are now dominated by young people and unemployment among the young is high. This, says Mr Okoloko, represents another opportunity.
"Seventy per cent of the labour force in Nigeria is in the agricultural space."
He believes the industry's inability to attract the best and brightest is not helped by Africa's graduates who are lured into the corporate world by the promise of high starting salaries.
For him, buying a piece of fertile land would prove a more profitable option for people starting out.
"A young determined fellow coming out of school on five hectares of land, using best practices in terms of the right use of fertilisers, seeds, education, farming on five hectares of land will generate more income than any entry level position in corporate Nigeria."
He sees the out-dated image of farming as a profession with few financial rewards as one of the main reasons behind this lack of interest in rejuvenating the agriculture sector.
"A farmer is not necessarily the poorest person on earth."
Farming for the future
Mr Okoloko's plans are not short on ambition.
The firm's website reads that they want to become the "No 1 Company by market share and profitability" in agriculture.
The firm now produces seeds which they hope will be used to improve the yield of farmers and runs learning centres across the country to enable farmers to meet and share techniques.
For now the 2013 launch of Notore foods, a subsidiary which will work with farmers across Africa to select agricultural produce, is one of Mr Okoloko's main priorities.
As far as he is concerned, the future of African food security lies with its farmers.
African Dream is broadcast on the BBC Network Africa programme every Monday morning.
Every week, one successful business man or woman will explain how they started off and what others could learn from them.