Dioncounda Traore: Mali PM 'ashamed' at leader's beating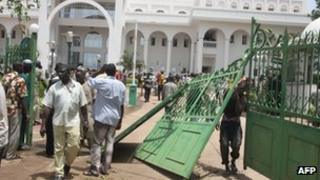 Mali's Prime Minister Cheick Modibo Diarra has said he is ashamed that Mali's interim president was beaten unconscious by protesters on Monday.
In a TV address, he appealed for calm and ordered the protests to stop.
Dioncounda Traore was attacked a day after a deal was struck with coup leader Capt Amadou Sanogo for him to remain in office for a year.
A spokesman for regional bloc Ecowas also said Mali could face sanctions if the military was involved.
It is thought that soldiers allowed demonstrators who backed the coup leaders into Mr Traore's office, which is next to the presidential palace.
He was unconscious when he arrived at hospital with a head wound, but was later released.
The protesters were angry that Mr Traore's mandate, which had been due to expire on Monday, was extended. They see him as a member of the political class, which they blame for Mali's problems.
The coup, and ensuing rebel seizure of northern Mali, have led many thousands of people to flee their homes.
Aid agencies say they are extremely concerned about the humanitarian situation in Mali, which is also suffering from the regional drought.
In a TV address on Monday evening, Prime Minister Diarra said: "I am ashamed to relate what happened this morning.
"I'm asking the young people who protested today not to protest again. I have understood their complaints and I'll make sure that the right people hear about them.
"Given the situation that this country is in right now, vandalism and looting is not what we need. It's not going to help the reconstruction of the nation," he said.
The junta also released a statement condemning the attack, but stopped short of asking demonstrators to stay at home, Bamako-based journalist Martin Vogl says.
The deal struck by Ecowas also saw Capt Sanogo recognised as a former head of state with a salary and a mansion, along with a role during the transition.
Mediators from West African regional bloc Ecowas left Bamako on Monday, saying "we have accomplished our mission".
Ecowas spokesman Sunny Ugoh told the BBC he was shocked at the events that unfolded following their departure and said sanctions were now a possibility.
"We're rather shocked that this kind of incident would happen barely 24 hours after a delegation from Ecowas managed to secure an agreement with the military.
"I believe that regional governments are already consulting to see how they can respond to the situation. Sanctions are still on the table if it turns out that those with whom an agreement was reached are complicit in this."
Capt Sanogo seized power in March and led the country for less than three weeks, before handing power to Mr Traore, the former speaker of parliament, in the face of intense international pressure and the rapid advance of rebels, whose seized the whole of the north - an area the size of France.
As part of the deal, the government is supposed to focus on recovering the north from a mixture of Tuareg separatists and Islamist fighters.
Some of the groups have links to al-Qaeda's branch in the region, al-Qaeda in the Islamic Maghreb.
Ecowas has said it is preparing to send 3,000 troops to Mali to help the country reclaim its northern territory, but no date has been set for the force to arrive.