Art, paint and modern South African politics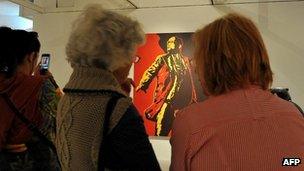 It all seems a bit silly really. One man paints a picture of another's penis. Two other men then paint over it.
And yet, in the politically charged atmosphere of modern South Africa, a whole range of issues inevitably cluster noisily around the offending painting - from the obvious questions about freedom of expression versus the right to personal dignity, to allegations of racism, cheap spin, old divisions, and the shrill instincts of government and media.
I strolled along to the gallery this morning to see what all the fuss was about. Tight security at the gate. A tittering queue of about 40 people outside.
The exhibition inside offers a sharp, funny, but not particularly original attack on South Africa's ruling African National Congress (ANC), and the culture of entitlement and enrichment that seems to have chewed away at the original values of the movement. The artist leans heavily on Soviet art and propaganda - although I'm not entirely sure why he didn't look for inspiration closer to home.
I stood for a few minutes looking at The Spear - the tall portrait of President Zuma, with his genitalia hanging proudly outside his trousers - and thought not of politics, but of the "tuberous cock and balls" that Philip Larkin wrote about with his particular knack for trenchant provocation.
I can see why plenty of South Africans find the picture offensive and unnecessary. I can also see why the ANC might choose to make political capital out such a minor scandal - one that surely could have been shrugged off.
Then came the rumpus - suddenly a gaunt white man and then a younger black man daubed the picture with paint. Some onlookers and journalists crowded around them, too late to stop the damage.
"It's an insult… to our president," the second man told me, seconds after he had been head-butted by a guard and wrestled to the paint-smeared ground. His accomplice offered no explanation for their actions, as they were both led away in plastic handcuffs.
It looks like Tuesday's act of hands-on practical criticism will not mark an end to the affair. The ANC says the legal case will continue, on a point of "principle" against the gallery and a newspaper that published a photo of the original painting.
The case could set some important precedents.
I am reminded of a conversation I had just before the football World Cup, when South African leaders were furiously overreacting to every, and any, hint of negative coverage by the media.
Pius Langa, the country's former chief justice, let out a big sigh and said something along these lines: "I know we are too thin-skinned. We should just let it go. But we can't. You must remember where we have come from."
Related Internet Links
The BBC is not responsible for the content of external sites.