South Africa: Illegal miners trapped after accidents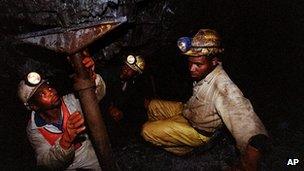 More than 35 people are trapped underground after accidents at South Africa at two disused mines.
Three men digging for diamonds in Northern Cape province died after tunnels collapsed, 15 remain trapped.
At least 21 miners are stuck in a gold mine near Welkom in Free State province following a rock fall.
They are all informal or illegal miners. Five people rescued from the gold mine are to be charged for trespassing, a police spokesman said.
Illegal miners take huge risks by going underground, often with little safety equipment - some living in the mines and not coming to the surface for weeks at a time.
The BBC's Africa editor Martin Plaut says many of them are trained miners are who have been made redundant - and with more than a quarter of South Africans unemployed there is little alternative employment.
South Africa's minerals have brought great wealth to the country over the years, but at a terrible cost, he says.
Since the first accidents were reported in 1904, more than 54,000 South African mine workers have lost their lives in mine accidents and many more workers have died as a result of exposure to hazardous dust, gas and fumes.
Thirty men were in the Bontekou mine in Kleinzee in Northern Cape province when the tunnels collapsed in the early hours of Tuesday - 11 people managed to escape and raised the alarm, police said.
A rescue operation has had to be halted to stabilise the area as loose gravel is continuing to cave into the tunnels - which were closed by the mine early last month.
A national rescue team has now arrived to help with efforts to free the men, the police in Northern Cape said in an statement.
Kleinzee residents gathered at the mine on Wednesday to wait for news of family and friends trapped underground, the South African Press Association reports.
The body of one of the diggers has been recovered.
Another two bodies are visible, but the unstable conditions are preventing rescue workers from retrieving them, the police said.
At the gold mine, owned by Harmony, five illegal miners have been pulled alive from the rocks.
"They are thirsty and hungry, but well enough to be charged for trespassing," Sapa quotes Free State's police spokesman Stephen Thakeng as saying.
He said the mine had been sealed by Harmony but illegal miners, many of them from Zimbabwe, Mozambique and Lesotho, had burrowed in under organised supervision.
"The organisers of this illegal mining are recruiting in very poor communities and people don't always realise they are coming to work on something illegal and very dangerous in South Africa," Capt Thakeng said.
Related Internet Links
The BBC is not responsible for the content of external sites.