Mali's President Traore 'goes to France for medical tests'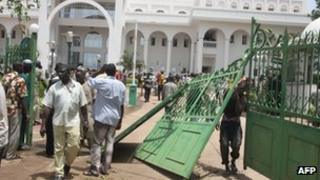 Mali's interim President Dioncounda Traore is going to Paris for medical checks after he was beaten unconscious by protesters two days ago, aides say.
Mr Traore was treated in Mali for a head wound after demonstrators broke into his office and assaulted him.
He was appointed when army officers who briefly seized power in March agreed to return power to civilian politicians.
The coup leaders had wanted him to step down, but last week agreed to regional demands for him to stay on for a year.
Capt Amadou Sanogo, who led the March coup, demanded that Mr Traore be replaced by another interim president, but the regional bloc Ecowas insisted he remain in office to supervise the transition back to democracy and new elections.
The coup officers are still widely thought to wield power behind the scenes.
The demonstrators who attacked Mr Traore were angered by the deal between Capt Sanogo and Ecowas that permitted Mr Traore to remain in office.
Correspondents say the protesters, who supported the March coup, see him as a member of a political class which they blame for Mali's problems.
It is thought that soldiers allowed them into Mr Traore's office, which is next to the presidential palace.
He was unconscious when he arrived at a Bamako hospital with a head wound, but was later released.
Speaking on condition of anonymity, a presidential aide said more thorough checks were needed on Mr Traore's heart because of a previous heart attack.
An Ecowas spokesman said the regional grouping was shocked at the beating meted out to Mr Traore, and that sanctions were now a possibility.
Military officers led by Capt Sanogo toppled President Amadou Toumani Toure in March, saying he had done too little to combat ethnic Tuareg and Islamist rebels in the north.
They were in power for fewer than three weeks before handing power to Mr Traore in the face of intense international pressure and the rapid advance of rebels, whose seized the whole of the north of Mali.