Somali al-Shabab militant stronghold Afgoye 'captured'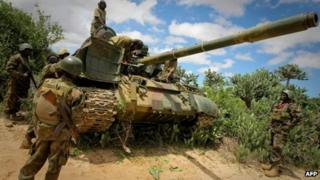 African Union (AU) forces in Somalia say they have captured the strategic town near the capital, Mogadishu, after Islamist militants pulled out.
Afgoye was a major stronghold of the al-Shabab group, giving their fighters easy access to the capital.
"They might never recover from this," the spokesman for the AU in Somalia, Lt-Col Paddy Ankunda told the BBC.
But a resident told the BBC no troops had entered Afgoye itself and AU tanks were attempting to encircle the town.
"There is much tension in the town - teashops and businesses are closed. There is no shooting, no bullets but people are afraid to leave their homes," he said.
Analysts say the town's loss would be a big blow for the al-Qaeda group, but its militants are likely to be hiding in the surrounding villages, bush and farm lands.
Afgoye, 30km (18 miles) north-west of Mogadishu, lies on a strategic crossroads for routes to the north, west and south of Somalia.
'Access to aid'
Lt-Col Ankunda said Afgoye was the militants' second most important stronghold after the city of Kismayo in the south.
The town has allowed al-Shabab fighters to mount frequent attacks in the capital - despite being expelled last August from its bases there by the African Union force in the city.
Despite facing pressure on a number of military fronts, al-Shabab still controls much of the country.
The advance by Somali government troops, backed by African Union forces in tanks, began early on Tuesday.
The forces avoided using the main road linking Mogadishu to Afgoye as this stretch of land - known as the Afgoye corridor - is home to up to 400,000 people who have fled years of fighting and are now living in makeshift camps.
Army commanders have told the BBC they approached Afgoye over scrub land.
Despite these precautions, people living in the Afgoye corridor have been fleeing in their thousands either towards Mogadishu or Afgoye town.
"This operation was very carefully planned, very thoroughly executed. The local inhabitants waved at us, were chanting and were calling us. [There were] no civilian casualties at all," Lt-Col Ankunda said.
People living in the Afgoye corridor would now have access to aid from international aid agencies, banned under al-Shabab, he said.
The militants left the town on Thursday when the AU and army forces were within a few kilometres of the town.
An Afgoye town resident told the BBC that office equipment and food were then looted from buildings previously occupied by al-Shabab on Thursday evening.
On Friday afternoon, AU tanks were seen crossing the strategic River Shabelle bridge, which links the town to Mogadishu, but they did not continue into the town and instead turned to the south-west, he said.
'No time to lose'
Analysts say the terrain around Afgoye makes it easy for the militants to hide and it will be difficult to gain full control of the town unless the surrounding countryside is also captured.
The BBC's Somali Service editor Yusuf Garaad says if AU and government forces are able to secure Afgoye, it could effectively cut in half al-Shabab's territory, as it should be easy to secure the main road between Afgoye and the south-western town of Baidoa, which al-Shabab lost in February.
Many Islamist fighters have already begun leaving central areas, anticipating the loss of Afgoye, he says.
The Horn of Africa nation has been without an effective central government since 1991 and has been racked by fighting ever since - a situation that has allowed piracy and lawlessness to flourish.
On Wednesday evening, leaders of disparate Somali factions agreed to a timetable that will elect a new president by 20 August, ending the transition period of the UN-backed interim government.
"Somalia is less than 90 days away from the most momentous event in its recent history," Augustine Mahiga, the UN special representative for Somalia, said in a statement on Friday about the deal.
"We have no time to lose. There is not a moment to spare as Somalia and its partners get down to work and ensure this process is participatory, legitimate, inclusive, transparent and, above all, Somali-owned."