Abyei crisis: UN confirms Sudan troop pullout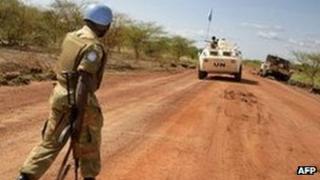 Sudan has pulled its troops out of the disputed border region of Abyei, according to the UN.
The UN peacekeeping mission in Abyei confirmed the withdrawal took place late on Tuesday evening.
The pullout comes as negotiators from Sudan and South Sudan meet in Ethiopia to begin talks over several disputes.
Abyei is claimed by both Sudan and the South, which became independent in 2011 after a long civil war. Sudan's forces seized Abyei last May.
But a source has told the BBC that the number of police in the area has been increased to about 200, raising fears that some Sudanese soldiers may have simply changed into police uniforms in order to stay.
Either way, the BBC's James Copnall in Khartoum says the presence of Sudanese police is likely to worry the tens of thousands of displaced people who are now considering moving back to Abyei.
Its status was left undecided in the 2005 peace deal between the two sides, and a referendum on the issue has been postponed indefinitely.
Sudanese officials had said the pullout was designed to aid the progress of the peace talks.
Mutual distrust
The talks in the Ethiopian capital Addis Ababa are expected to cover several border disputes that have caused friction, including Abyei.
But the level of distrust between the two sides is considerable, and rapid progress on the many areas of substantial disagreement is unlikely, the BBC's James Copnall in Khartoum reports.
South Sudanese officials have also accused Sudan of carrying out bombing raids in border areas of South Sudan in recent days.
"Today the Sudan armed forces are still bombing in Warguet area," South Sudanese Information Minister Barnaba Marial Benjamin told Reuters as the talks were due to begin.
Sudanese officials denied attacking the South.
There are strong feelings in both countries about Abyei. The Misseriya, a Sudanese group, take their cattle through the region every year.
But the Dinka Ngok, the permanent residents of the area, want Abyei to be part of South Sudan.
But even if from now on the only troops in Abyei are UN peacekeepers, the underlying problem of how to decide its future remains, our correspondent says.
Outstanding disputes
In April, cross-border clashes centred on the neighbouring oil-rich region of Heglig brought Sudan and South Sudan close to all-out war.
In the same month, the South's troops occupied Heglig for a week. It said it pulled out in response to international pressure, but Sudan said it reconquered the territory.
The UN Security Council has called on both countries to cease all bombing and cross-border fighting.
Outstanding issues also include disputes over oil revenues and the situation of the estimated half a million South Sudanese still living in Sudan.