BBC presenter Petroc Trelawny leaves Zimbabwe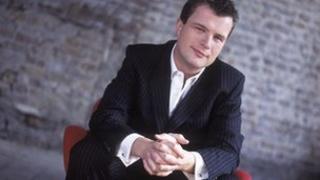 The BBC music presenter, Petroc Trelawny, has left Zimbabwe after all charges against him were dropped.
He was arrested at a music festival in Bulawayo for not having a work permit. He had volunteered to host the event free of charge.
On his arrival in neighbouring South Africa he tweeted a message to his supporters saying how relieved he was that his detention had ended.
He had spent some time in hospital being treated for a fractured arm.
"Safely at Jo'burg airport. As my fabulous Zim lawyer texts 'thank God it's really over'. Hope will soon be back in his wonderful country," he said on his Twitter account on Friday afternoon.
After being released on Wednesday following six days in police custody, he then faced new charges of breaking immigration laws.
However this case was dropped on Thursday and his passport returned to him.
Mr Trelawny was acting as a compere at the Bulawayo Music Festival and was there in a personal capacity, not on an assignment for the BBC.
He is known for presenting Music Matters, Breakfast and Live in Concert on BBC Radio 3.