Lagos plane crash: Nigeria suspends Dana Air licence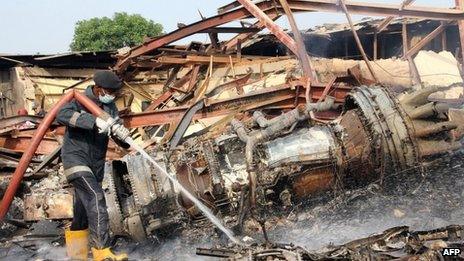 Nigeria's civil aviation authority has grounded all Dana Air's aeroplanes after one of its aircraft crashed on Sunday in a busy Lagos suburb.
The commercial aircraft was flying from the Nigerian capital, Abuja, to Lagos when it crashed and burst into flames.
All 153 people on board, and an unknown number on the ground, were killed.
Meanwhile, the country's lawmakers have called for the head of the civil aviation authority to step aside while they carry out an investigation.
Dana Air usually operates to cities around Nigeria out of Murtala Muhammed Airport in Lagos.
Dozens of families have been trying to identify the bodies of the dead, which are being kept in a morgue in a Lagos hospital.
It had been feared that dozens of people on the ground were also killed when the McDonnell Douglas MD-83 crashed into a printing works and residential buildings in Iju, a busy suburb north of the airport.
The BBC's Will Ross in Lagos says although some could still be buried under the rubble, so far the emergency teams have found six additional bodies - a remarkably low number given that it is a densely populated city.
The Nigerian Civil Aviation Authority (NCAA) says it will carry out a total system check of Dana Air - including the company's planes, maintenance procedures, personnel and books.
"Their operational licence has been suspended until we carry out their recertification," spokesman Sam Adurogboye told the BBC.
This is standard practice after such an event, Mr Adurogboye says.
The suspension will be lifted if all is found to be in order and the rest of the company's fleet found to be airworthy.
An NCAA investigation into the cause of the crash is under way, and both the flight data and the voice recorder have been recovered.
Aviation Minister Stella Oduah said that the pilot contacted the Lagos control tower just before crashing to say the plane was experiencing trouble.
Our correspondent says there have been reports that the pilot had reported in that mayday call that there were problems with both engines.
On Monday, President Goodluck Jonathan declared three days of national mourning and promised improvements to air safety after he visited the plane crash.
He was there with members of Nigeria's national assembly, who have been meeting on Tuesday in an emergency session to discuss the plane crash.
Lawmakers are to carry out their own separate investigation into the Dana Air crash - and want the director general of Nigeria's independent civil aviation authority, Harold Demuren, to be suspended until they conclude the probe.
People who suspected their relatives might have been aboard the flight that crashed have also gathered at the Abuja office of Dana Air.
Simon Abah said he went to the office, where a company employee was reading out the names on the passenger manifesto, as he was looking for his nephew Anthony Okara.
"They got to 103 on their list and they called out his name," Mr Abah told BBC's Focus on Africa programme.
"Initially, I couldn't believe it but I had heard his name and since the news had said that no-one in the plane had survived I reasonably assumed that he was dead - and it was with a great shock," he said.
"Anthony's loss to the family cannot be quantified in any language that I can use."
Although Nigeria's air safety record has improved in recent years, the country has a history of major passenger plane crashes - this is the fourth crash in the last decade in which more than 100 people were killed.
Lagos airport is a major hub for West Africa and saw 2.3 million passengers pass through it in 2009, according to the most recent statistics provided by the Federal Airports Authority of Nigeria.
Related Internet Links
The BBC is not responsible for the content of external sites.