Sudan's Bashir demands AU summit moves from Malawi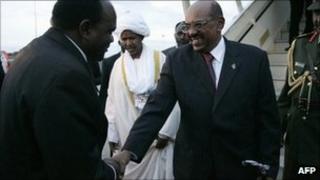 Sudan has asked the African Union (AU) to shift its July summit from Malawi after Malawian President Joyce Banda said Sudan's leader Omar al-Bashir was not welcome to attend.
Sudan's foreign ministry said the meeting was of the "upmost importance" and Mr Bashir's presence was required.
Sudan wants the meeting to take place at AU headquarters in Addis Ababa.
Mr Bashir has been indicted for war crimes in Darfur by the International Criminal Court (ICC).
He denies the allegations.
Sudan says its leader must take part in the summit, due on 9-16 July, because the agenda includes the ongoing tension between Khartoum and South Sudan.
South Sudan seceded in July last year after decades of civil war.
In recent weeks, the two countries have been close to all-out war over oil and undemarcated borders.
Rebuilding donor ties
Mrs Banda said in May that she wanted Mr Bashir to stay away from the meeting in the Malawian capital, Lilongwe, fearing the "economic implications" of his presence in the country.
She is trying to rebuild relations with donors, on which the impoverished country relies. They cut aid to her predecessor Bingu wa Mutharika's government, accusing him of political repression and economic mismanagement.
Mr Mutharika, who died suddenly in April, also defied calls to apprehend Mr Bashir who visited Malawi in October 2011.
After that visit, the ICC, which has issued an arrest warrant for Mr Bashir, referred the country to the UN Security Council.
Sudan says Malawi's current position on Mr Bashir violates AU rules including an obligation to provide "the required propitious frameworks and environment for the summit".
Malawi's information minister, Moses Kumkuyu, told the BBC: "The statutes of the African Union gives freedom to member states to make their grievances known."
"We were only making our position known and that is not infringing on any statute of the AU."
Under the ICC statute, member states - of which Malawi is one - have a duty to arrest indictees.