Nigeria violence: Seven dead after Boko Haram attacks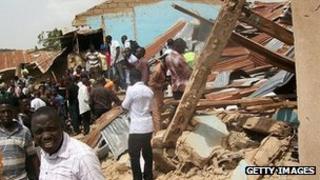 Boko Haram militants have attacked two churches during Sunday services, triggering deadly reprisal attacks.
In the central city of Jos, a suicide bomber blew himself up outside a church, wounding at least 50 people.
In a separate attack, gunmen opened fire during a service in Biu in northeastern Borno state, leaving at least one person dead.
Six people were then killed in Jos in reprisals when angry demonstrators took to the streets in protest.
Radical Islamist sect Boko Haram said it carried out the attacks. The group has carried out a number of attacks on churches in recent years, killing hundreds of people.
One witness at the church in Biu, Hamidu Wakawa, said that "gunmen came to the premises of the church and started firing at people outside the church before going into the main building to carry on their killings", Reuters reported.
Officials said one woman had been killed and at least three wounded.
In Jos, police said the attacker had driven as close to the church as he could before detonating himself.
"The suicide bomber did not drive into the church before the explosion. He was in front of it," police spokesman Abuh Emmanuel told Reuters.
"The church building collapsed entirely due to the intensity of the bombing."
Moments after the bombing, Christian youths set up roadblocks and had to be dispersed by police, according to one witness.
"Angry youths have gone wild, even attempting to prevent the security personnel from getting to the scene of the incident. They had to force their way out by shooting in the air to disperse them," Emmanuel Davou was quoted as saying.
The Red Cross later said demonstrators killed six people.
The Anglican archbishop of Jos, Ben Kwashi, condemned the church attacks, but said reprisals were "futile" and only served to aggravate the situation.
"We've been working with Muslim leaders, Roman Catholic bishops, and myself and many other church leaders, and we have worked so very hard - and this kind of terrorism just takes us back again," he said.
Boko Haram has carried out numerous attacks on churches, schools, police stations and government buildings in northern Nigeria, and is said to be continually widening its targets.
The group - whose name means "No to Western education" - wants to impose Sharia across Nigeria.
Boko Haram has said it was behind the suicide bombing of a church last weekend which left at least 12 people dead in Bauchi City.
The state of Borno has been Boko Haram's base. The group's mosque and headquarters had been located in Maiduguri, the state capital, until a military assault in 2009 destroyed them and left hundreds dead.