Africa Debate: Has South Sudan lived up to expectations?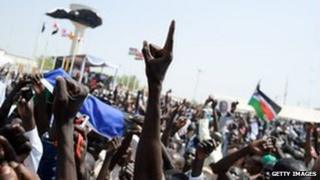 South Sudan marks its first independence anniversary next month following its separation from Sudan on 9 July, 2011.
After years of conflict with the north, expectations were huge and the celebrations momentous. Many hoped - and believed - that freedom would bring an end to the country's problems.
At independence, South Sudan was one of the least developed countries in Africa - with the highest maternal mortality and female illiteracy rates in the world.
A year on, what has changed?
South Sudan's first year has been hit by never-ending disputes with Sudan, with the pair seeming to be on the verge of a return to all-out conflict.
So have people's expectations been met or has the reality of independence simply failed to live up to the hype?
Can South Sudan ever overcome its troubled past?
What can and needs to be done to set South Sudan on the road to a brighter future?
These are some of the questions BBC Africa Debate will be exploring in its next edition due to be recorded and broadcast from Juba on 29 June 2012.
You can join the debate now by using the form below or via Twitter using #bbcafricadebate or @bbcafrica on Facebook and Google+