South Africa police chief Bheki Cele fired by Jacob Zuma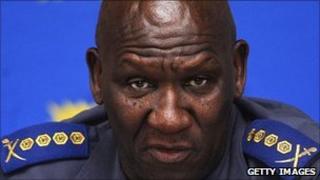 South African President Jacob Zuma has fired police chief Gen Bheki Cele, who had been accused of corruption.
Mr Zuma told reporters he had "decided to release Gen Cele of his duties".
He said Gen Cele would be replaced by Mangwashi Phiyega, making her the country's first female police chief.
Gen Cele, whose predecessor was jailed for corruption, was suspended in October after it emerged he had been implicated in alleged unlawful property deals - he had denied any wrongdoing.
He played a key role in Mr Zuma's hard-fought campaign to be elected president in 2009.
Last year a South African corruption investigator, Thuli Madonsela, ruled that police buildings were leased from a company at inflated prices.
Ms Madonsela - who is South Africa's public protector, a role similar to that of an ombudsman - accused Gen Cele of being among those who were ultimately responsible for the "fatally flawed" deals.
Successive scandals
She investigated leases for buildings intended to serve as police headquarters in the capital, Pretoria, and the eastern city of Durban.
She ruled that the government paid the company inflated prices, concluding that the deals were "illegitimate".
South Africa's government has been hit by a succession of scandals recently.
In October, Mr Zuma fired two government ministers accused of corruption.
The president sacked Public Works Minister Gwen Mahlangu-Nkabinde and Co-operative Governance Minister Sicelo Shiceka, who was accused of unauthorised spending.
It came after Ms Madonsela ruled that Ms Mahlangu-Nkabinde had authorised multi-million dollar property deals in the scandal that has now cost Gen Cele his job.
Ms Mahlangu-Nkabinde denied doing anything illegal.
Public money 'dishonesty'
In a separate investigation, Ms Madonsela found that Mr Shiceka had spent more than $68,000 (£42,000) of government money on unauthorised luxury travel and hotel bills.
This included visits to a girlfriend jailed in Switzerland for drug smuggling.
Ms Madonsela said his actions "constituted maladministration [and] dishonesty in respect of public money".
He denied any wrongdoing.
Gen Cele was promoted to become police chief in 2010, when his predecessor Jackie Selebi was convicted of taking $156,000 (£100,378) in bribes from drug dealer Glenn Agliotti.