ICC delegation visits colleagues held in Zintan, Libya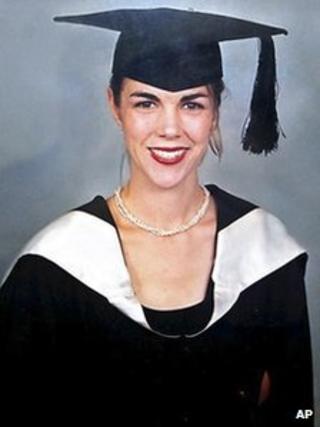 A delegation from the International Criminal Court has visited colleagues detained by a local militia in the Libyan mountain town of Zintan, a senior official says.
Ahmed al-Jehani, Libya's ICC envoy, said the group was eventually allowed into the town after an initial delay.
The four detained ICC staff had gone to Zintan to meet Saif al-Islam Gaddafi, the son of the late Libyan leader.
One was then accused of trying to pass him documents from a former ally.
The Hague-based court, the Australian government and rights groups have all demanded their immediate release. The ICC say their detention is illegal as they are immune from prosecution.
But Tripoli says the accused have put national security in jeopardy and will be held for 45 days while they are investigated.
The Zintan militia captured Saif al-Islam last November and have since refused to hand him over to central authorities in Tripoli.
Coded letter
Australian lawyer Melinda Taylor was detained last week, after accusations she clandestinely passed Mr Gaddafi a coded letter from a fugitive former aide, Mohammed Ismail.
Her Lebanese translator Helene Assaf is accused of being her accomplice.
Two others - Russian Alexander Khodakov and Spaniard Esteban Peralta Losilla - are with them, but it is unclear whether they are staying out of solidarity for their colleagues or are being held against their will.
"I can confirm that the ICC delegation entered Zintan and visited their colleagues," despite initially being halted at the entrance to the town by militia members, Mr Jehani was quoted as saying.
He said they had been accompanied by the national ambassadors to Libya for each of those in custody.
'No duress'
"They are well, they are in a guesthouse, not in a prison. They have food, water, and are being treated well," Mr Jehani reportedly said.
That was confirmed by Australian Foreign Minister Bob Carr, who said the Australian envoy had told him the detainees were "under no duress, they are enjoying air conditioning and television and fridges with fruit and yoghurt", reported Radio Australia .
But he added: "The sad point is that there is no immediate prospect of release."
Libyan authorities have been involved in a tussle with the ICC over where Saif al-Islam should stand trial over his role in last year's uprising that ended his father's decades-long rule of Libya.
The ICC had been permitted to provide him with access to ICC-appointed defence lawyers, and those detained were part of that team.