Tanzania arrests man over recent Nairobi attack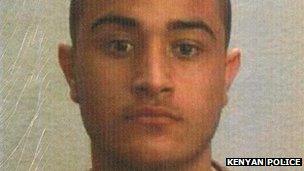 A man suspected of involvement in an attack on a shopping centre in the Kenyan capital, Nairobi, last month has been arrested in neighbouring Tanzania.
Kenyan police say Emrah Erdogan, 24, is a German national of Turkish origin.
They allege he crossed into Kenya early in May from Somalia, and that he had been fighting with the Islamist al-Shabab militia there.
More than 30 people were injured in the blast which the Kenyan authorities say was caused by a bomb.
There had been confusion over its cause - officers first blamed an electrical fault.
The militant group al-Shabab has repeatedly threatened to stage revenge attacks after Kenya sent troops into Somalia last year.
The Kenyan government accuses the Islamist fighters of being behind various kidnappings on Kenyan soil and of destabilising the border region.
The Tanzanian police confirmed to the BBC that Mr Erdogan had been arrested.
He is among four people Kenyan police have been trailing since the attack.
They released his photo the day afterwards and appealed for information about his whereabouts.
Tanzania Deputy Commissioner of Police Issaya Mungulu told reporters Mr Erdogan was arrested on Monday in Dar es Salaam.
He said the suspect was being questioned by security agencies from Tanzania, Germany, Kenya and Uganda.
"The results of the interrogation and the steps to be taken after that will be addressed later," he said.
"Right until this moment it is confirmed it is Germany that was looking for him and that is why we followed up. There have been terrorist activities in Kenya and Uganda, so we saw it fit that they also come and try and interrogate him.
"The suspect's movements have been traced all the way from Gasera, in Ethiopia, then he came down to Nairobi and finally here in Tanzania so his movements are what led to include our neighbouring countries that have been affected by terrorist attacks."
A spokesman at the German embassy in Dar es Salaam confirmed that they were aware of the capture.
Mr Erdogan, also known as Salahuddin al-Kurdi, is believed to have travelled to Waziristan in north-west Pakistan in early 2010 where he joined a militant Islamist group before going to Somalia last year, Reuters news agency reports.
Earlier this year, the African Union force backing Somalia's interim government was boosted from 12,000 troops to nearly 18,000 to incorporate Kenyan troops which entered Somalia last October in pursuit of al-Shabab militants.
Al-Shabab, which joined al-Qaeda earlier this year, is known to have recruited a number of foreign fighters - many of whom have fought in Iraq and Afghanistan.
Related Internet Links
The BBC is not responsible for the content of external sites.