Mali rebels: UN Security Council sanction hopes falter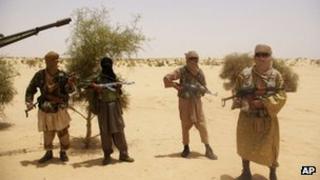 A bid by African states to secure a UN Security Council mandate for military intervention in Mali has faltered.
The African Union (AU) and regional body Ecowas wanted a resolution amid fears that rising militancy is threatening stability in West Africa.
But the Security Council said it wanted more detail before making a decision.
Mali's army toppled ex-President Amadou Toumani Toure in March, and the north of the country was taken over by Tuareg rebels and militant Islamists.
The country has an interim president after West African leaders later reached a deal with coup leader Capt Amadou Sanogo to hand over power.
The takeover of northern Mali has allowed the militant group al-Qaeda in the Islamic Maghreb freer movement, and there are fears that the area could become a training ground for militants from all over the world.
The crisis was discussed in a meeting between the UN Security Council and African Union Peace and Security Council.
An Ecowas force could have two possible missions. The first would be to protect the institutions of the transition to ensure that the country's army does not attempt to take over again.
The second goal would be to assist the army in its bid to reclaim the north.
Bamako-based journalist Martin Vogl says the decision to slow things down is likely to frustrate the "hawks" in Africa who would like to see an intervention in Mali as soon as possible.
He says the AU and Ecowas are keen to secure a UN resolution because, in all likelihood, it would mean more Western countries would be willing to help with planning, logistics and intelligence for an intervention.
A resolution has been pursued particularly keenly by the president of the AU, Benin's Boni Yayi, and Niger President Mahamadou Issoufou.
Niger is particularly concerned that a successful Tuareg state in Mali could reignite a similar rebellion on its soil.
These countries, along with former colonial power France, believe the current situation in Mali poses an imminent risk to regional and international security.
However, Mali's interim government has said it is opposed to foreign troops intervening, arguing that its security is a job for the country's armed forces.
Capt Sanogo seized power in March after claiming the president, Mr Toure, was not doing enough to quash the rebellion in the north.
The soldier was forced to step down three weeks later but is thought to wield power behind the scenes.
Capt Sanogo handed over power to the former speaker of parliament, Dioncounda Traore, who was sworn in as Mali's interim leader.
Mr Traore is recovering from surgery in a Paris hospital after being beaten unconscious in his office in May by protesters who supported the coup.