Zimbabwe's Robert Mugabe motorcade in deadly crash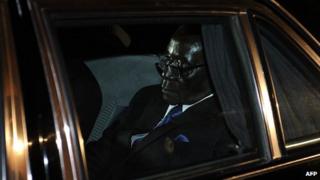 One person has been killed and 15 others were injured in a crash involving President Robert Mugabe's motorcade in Zimbabwe, police say.
A car in the motorcade hit a commuter bus near the rural town of Zvimba - the third such accident in two weeks.
Police spokesman Wayne Bvudzijena said Sunday's accident happened because the bus failed to make way for the president's vehicles quickly enough.
President Mugabe typically travels with an escort of around 10 vehicles.
His motorcade typically includes the presidential limousine, motorcycles and army vehicles.
The car involved in the crash on the Robert Mugabe highway outside the president's home town of Zvimba is thought to have been leading the motorcade.
The national police spokesman said the bus driver had failed to heed the siren and beacon of the escort vehicle, leading to a head-on collision between the minibus and a police car.
"One passenger in the commuter bus died on the spot while 15 passengers from both vehicles were injured in the accident," Mr Bvudzijena told the AFP news agency.
He urged motorists to "pull off the road when they hear a siren or see a red or blue beacon".
Police VIP protection spokesman Martin Mbokochena criticised what he called "some unruly elements in society who want to disturb".
Two weeks ago, a motorbike in the presidential cavalcade hit and killed a homeless man during another visit to the president's home town.
A member of the presidential guard died and seven others were hurt in a separate leg of the same trip, when a truck in the motorcade overturned after one of its tyres burst.