Uganda pro-gay groups face ban by ethics minister Lokodo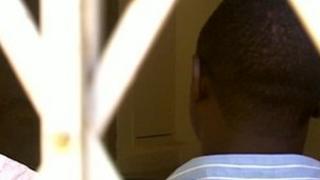 Uganda plans to ban 38 non-governmental organisations it accuses of promoting homosexuality, the Minister for Ethics and Integrity Simon Lokodo has said.
"I have got a record of meetings that they have held to empower, enhance and recruit [homosexuals]," Mr Lokodo told Reuters.
The minister has not named which groups are on the list for de-registration.
Homosexual acts are illegal in Uganda and a bill proposing increasing jail terms to life is before parliament.
'Beyond reasonable doubt'
Uganda is a largely conservative society and many people condemn homosexuality both as unAfrican and unChristian. Gay people have faced physical attacks, losing their jobs and social rejection.
In recent years some gay rights groups have been set up in the country.
Mr Lokodo has submitted the list of groups he wants banned to the internal affairs ministry.
"I have investigated and established beyond reasonable doubt that these NGOs have been involved in the promotion and recruitment in terms of the 'gay' issues," he told the AFP news agency.
"The sooner we can do this the better," he added.
The minister says the organisations are receiving foreign support for Uganda's homosexuals and accused gay people of "recruiting" young children into homosexuality, Reuters reports.
On Monday, police raided a gay rights conference being held at a hotel just outside the capital, Kampala.
Gay activists from around the region were detained for a few hours.
Earlier this year, an MP retabled a controversial anti-gay bill - it was originally submitted in 2009 but never debated after sparking international condemnation.
It proposes increasing the penalties in Uganda for homosexual acts, which are illegal, from 14 years in jail to life.
It also states that organisations found guilty of the "promotion" of homosexuality will be stopped from working.
David Bahati, the MP behind the proposed legislation, says a clause proposing the death penalty will be dropped.
It originally said those found guilty of "aggravated homosexuality" - defined as when one of the participants is a minor, HIV-positive, disabled or a "serial offender" - would face the death penalty.
Western donors have recently said they could withdraw aid from those countries, including many in Africa, which do not recognise gay rights.