Kenya maids barred from Mid-East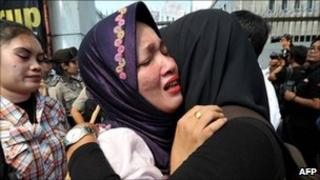 Kenya has stopped its citizens from seeking jobs as domestic workers in the Middle East, saying increasing numbers have been mistreated.
Correspondents say Kenyans have returned with horror stories; from sexual abuse to a maid's body found stuffed into a fridge.
The foreign affairs ministry says Kenyans have duped by unscrupulous agents who promise non-existent jobs.
It says it will now vet all agents recruiting housekeepers and maids.
Until the new rules are ready, Kenyan citizens are barred from seeking work in the Middle East as domestic workers.
Earlier this year, Saudi Arabia sent a team to Kenya to discuss the issue.
The Saudi government insisted their laws protect foreign workers.
It also blames brokers and says it has blacklisted some recruitment agencies from dealing with them.
Some 3,000 Kenyans are believed to be working in Saudi Arabia, according to the International Organization of Migration.