Nigeria's Jonathan sacks security and defence chiefs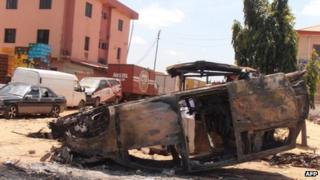 Nigeria's President Goodluck Jonathan has sacked his national security adviser and defence minister, amid mounting violence in the north.
Security aide Owoye Azazi will be replaced by Sambo Dasuki, a retired colonel from the Muslim North. It is not clear who will succeed Defence Minister Bello Mohammed.
The move comes after a spate of attacks, including suicide attacks on churches, by Boko Haram Islamists.
About 150 people have died this week.
Last Sunday, three churches were targeted by suicide car bombs in the northern state of Kaduna and people were also killed in subsequent riots and revenge attacks.
Kaduna lies on the dividing line between Nigeria's largely Christian south and mainly Muslim north.
Rioting flared anew on Monday, while dozens of people were killed gun battles between the security forces and suspected militants in the north-eastern city of Damaturu later in the week.
Curfews have since been imposed in both Kaduna and Damaturu.
Growing insurgency
Mr Dasuki, the new national security adviser, is a retired army colonel from the north, as well as a cousin of the sultan of Sokoto, who is considered the spiritual leader of Nigeria's Muslims.
The BBC's Will Ross in Nigeria says this is seen as a positive move which many Nigerians hope will lead to progress in halting the spread of violence.
No official reason was given for the dismissals, but the Kaduna bombings sharply intensified criticism of President Jonathan's handling of the Boko Haram insurgency.
The president was also widely criticised for travelling to the UN's Rio+20 climate change conference in Brazil on Tuesday, just as unrest was flaring again.
The military crackdown in northern Nigeria has not only failed to improve the security situation it has also led to countless civilian deaths, our reporter says.
Some argue it has also prompted the Islamist militants to increase the number of attacks.
Analysts say there is real concern that residents could increasingly take the law into their own hands if the authorities do not tackle the problem.
Boko Haram, which means "Western education is forbidden" in the Hausa language of northern Nigeria, seeks to overthrow the government and establish an Islamic state.
The group adheres to a strain of Islam that outlaws any kind of activity linked to Western culture.