US warns of 'imminent' threat of attack in Mombasa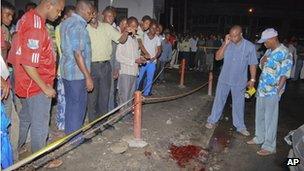 The US embassy in Kenya has warned of an "imminent" threat of an attack on the Kenyan port of Mombasa and asked all its government workers to leave.
Mombasa and the capital Nairobi have suffered a series of grenade attacks since Kenya sent troops into Somalia to battle the Islamist group al-Shabab.
France has warned its citizens to be "extremely vigilant" in Mombasa.
The warnings came as police said they were questioning two Iranians detained over suspected links to a terror network planning bombings in Mombasa and Nairobi.
Top Kenyan police officials immediately made statements calling for calm.
"Police are working around the clock to guarantee security in Kenya," said Kenyan police commissioner Mathew Iteere.
Al-Shabab has repeatedly threatened to stage revenge attacks in Kenya.
The Kenyan government accuses the Islamist fighters of being behind various kidnappings on Kenyan soil and of destabilising the border region.
Earlier this year, the African Union force backing Somalia's interim government was boosted from 12,000 troops to nearly 18,000 to incorporate Kenyan troops which entered Somalia last October in pursuit of al-Shabab militants.
Related Internet Links
The BBC is not responsible for the content of external sites.