Sudan unrest: Austerity protests spread in Khartoum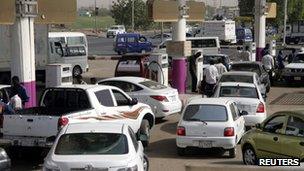 Protesters in Sudan's capital Khartoum have used burning tyres and stones as police try to end demonstrations against government austerity measures.
The protests were initially led by students, but are said to be spreading to other sections of the population.
The police have been ordered to act immediately to end the unrest.
Sudan's economy has been in trouble since South Sudan ceded last July, taking with it three-quarters of the former country's oil production.
The protests began on 16 June, triggered by planned government cuts to fuel subsidies and other spending.
They spread throughout Khartoum on Friday.
Demonstrations broke out in several places in the capital and elsewhere, despite the heavy presence of riot police.
In one Khartoum neighbourhood, al Deim, protesters set light to tyres, then ran down side streets.
In some cases they used concrete blocks to barricade the streets against police vehicles.
Activists have reported large numbers of arrests.
The country's senior police chief, Gen Hashem Othman al-Hussein, ordered his forces to end the demonstrations "firmly and immediately" and to take on "riots... and the groups behind them", state news agency Suna reported.
The BBC's James Copnall in Khartoum says large-scale street protests are one of the Sudanese authorities' biggest fears.
Twice in the last 50 years governments have been overthrown by popular revolutions in Sudan.
However, it has so far escaped the unrest characteristic of recent uprisings in Arab countries such as neighbouring Egypt.
But our correspondent says the prices of basic goods are likely to rise in the next weeks and months, and the opposition and youth groups opposed to President Omar al-Bashir hope this will push more people into the streets.
The US government and the human rights group Amnesty International have already condemned what they called a crackdown on the protests.
Related Internet Links
The BBC is not responsible for the content of external sites.