Nigeria unrest: Inmates escape in Damaturu jail attack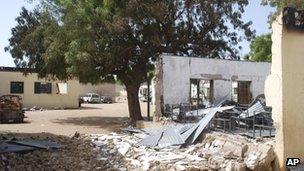 Forty prisoners have escaped from a jail in the northern Nigerian town of Damaturu after it was stormed by a group of armed men, police say.
Yobe state police commissioner Patrick Egbuniwe said his men were overpowered by at least 40 attackers at the prison.
The past few months have seen several jail breaks in northern Nigeria, some but not all of which have been admitted by the Islamist group Boko Haram.
There were no suspected Boko Haram members in the jail, Mr Egbuniwe said.
The attackers entered the prison at dawn on Sunday with firearms and explosives.
Police tried to resist the attack but were overpowered. There were reports of injured on both sides.
No group has said it carried out the attack.
The jailbreak comes after a week of violence in northern Nigeria including attacks on churches by Boko Haram which has left about 150 people dead.
At least 40 people were killed in gunbattles in Damaturu between the group and security forces.
The violence led to the removal of the country's defence minister and national security adviser.
Boko Haram, which means "Western education is forbidden" in the Hausa language, seeks to overthrow the government and establish an Islamic state.
The group adheres to a strain of Islam that outlaws any kind of activity linked to Western culture.
One of the group's demands is the release of all its jailed members.