African viewpoint: Choosing who to support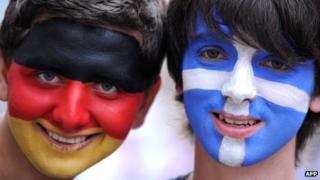 In our series of viewpoints from African journalists, Elizabeth Ohene - who was a minister in Ghana's former NPP government - wonders about the rationality of supporting certain players or politicians.
For the past three weeks plus, I have been in the United States of America. I have had the opportunity to indulge in the two passions of my life, politics and sports, from the comfort of a couch.
I am watching Ghana's politics from afar and over here in America, from the touchline.
I have been watching a lot of sports these past few weeks. The England cricket team beating the West Indies, the NBA finals (I am in the USA, after all) waiting for the US Olympic Trials and, of course, Euro 2012.
That is not news, I know. I always watch sports at every opportunity and it is one of the reasons I am grateful for satellite television and for minute by minute and over by over coverage of matches on the internet.
As I sat down to write this I had just finished watching Germany defeat Greece at the quarter finals stage of Euro 2012.
It was one of those matches that everybody just knew the outcome before it was started and yet everybody said "this is football and anything can happen".
In the event, nothing but the expected happened and the efficient Germans beat the romantic Greeks.
I found myself warming to Angela Merkel as she watched the match. Now there is a woman I usually have to make an effort to smile at.
No explanation
My sports watching, like my politics, tends to be exhausting. At the end of the game, I am more tired than those who were on the field of play.
Sometimes it is not so clear what my support is based on but I always must support one side, even if I know nothing about both sides and I happen upon the match half-way through.
I have been known in such circumstances to simply lend my support for the team wearing red or blue or white or yellow or green or purple, depending on my mood.
But there are and have been sporting personalities and teams that I simply dislike and there can be no explanation for my sentiments.
What reason can there possibly be, for example, for the intense dislike I had for Ivan Lendl, the one-time great Czech tennis player?
As the Wimbledon fortnight starts, I recall with a measure of guilt the amount of energy I used to expend simply waiting for him to be beaten. (It was the one Grand Slam he never won).
Why, for example, can I not warm up to Rafael Nadal and why am I unable to eat my dinner when Roger Federer is beaten?
I tend not to support the Pakistanis unless they are playing against Australia but then I support everybody that plays against Australia.
Siding with the underdog?
The South Africans I support in rugby and cricket but not in football - well at club level I support Orlando Pirates.
When it comes to athletics, the Kenyan men are my default team in the long distances and I find I choose between the Kenyan and Ethiopian females depending on whose smile I like when they line up.
I used to think I instinctively sided with whoever was the underdog but how do I explain that I was very keen on Frankie Fredericks of Namibia but didn't quite warm up to Maria Mutola of Mozambique.
I like Portugal football national team but Cristiano Ronaldo doesn't do anything for me. I like Barcelona FC, I love Lionel Messi but the Argentina national team leaves me cold.
I support Team Ghana in all the disciplines even those in which I know they are rubbish.
I am able to convince myself that the Ghana national football team, the Black Stars, can outplay the Spanish national team and the Brazilian national team any day.
I have decided after a month here in the United States and trying to make some sense of the politics that maybe it is just like how I do not like Rafael Nadal and Cristiano Ronaldo.
There is no logic to it, that's just the way it is.
If you would like to comment on Elizabeth Ohene's column, please do so below.