Rival Libyan tribes feud ahead of 'crucial' polls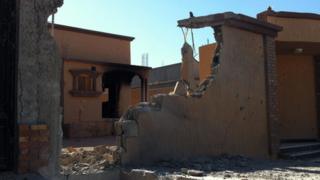 The BBC has seen first-hand evidence of torture and illegal detention as rival Libyan tribes clash in the west of the country.
Eight months after the death of Colonel Muammar Gaddafi, some observers say his removal has exposed dangerous divisions in a weak and fragmented country, which is only a week away from its first nationwide elections.
This may be a "new" Libya but some things have a depressingly familiar feel.
In the western mountain town of Zintan, several tribal elders gather in the courtyard of a mosque to mourn the death of Abdul Salam Aghuz.
From still pictures and a video they play on a laptop computer, I can clearly see that the 49-year-old father of nine died a very painful death. There is heavy bruising on his body and his head has been badly beaten.
Aghuz was tortured, not by Col Gaddafi's henchmen, but by a rival tribe from a nearby town.
"Look", says the tribal elder, Abdullah Rama Aghuz, who beckons me to sit next to him on the floor.
"This doctor's report says he was beaten. His hands and feet were tied before they killed him."
Tribal allegiance
The fellow elders sat around us are mostly quiet and reflective but in this deeply conservative society, some want revenge.
Where tribal allegiances are more powerful than loyalty to the Libyan state, more than 100 people were killed in fighting last week.
The heaviest clashes were in the small desert town of Misdah where the Zintani and Mishasha tribes fought for several days, using heavy weapons many acquired from the former armies of Colonel Gaddafi.
The causes of the fighting are complex.
Some disputes, particularly over the ownership of land, date back for generations.
Other elders tell me that the Mishasha were favoured by Gaddafi and are still resentful about the way he was toppled and ultimately killed.
Jouma a Ifhima is an agricultural economist by trade and lives hundreds of miles away in eastern Libya.
He is also a respected tribal leader who has just spent the last few days in the Zintan area trying to negotiate a ceasefire.
It has been an exhaustive, delicate process but, Mr Ifhima reassures me, everything "will be fine."
When I ask him if there is a danger of the country falling apart along tribal and geographical lines, he is adamant.
"No, absolutely not," responds the negotiator resplendent in his own tribal shirt and tunic.
"We are all one, all Libyans and committed to one country."
Many do not share Mr Ifhima's confidence and driving through towns like Misdah, devastated by the recent fighting, you can understand why.
Fledgling brigades
Even though some former rebels have been drafted into a makeshift national army, there is a complete lack of central government authority in many parts of Libya.
Here real power lies in the hands of the heavily armed brigades.
Remember that Col Gaddafi's son and one-time heir apparent, Saif al-Islam Gaddafi, is still in captivity of the Zintan brigades, not the fledgling justice ministry in Tripoli.
It is a similar situation for the four delegates from the International Criminal Court, who were detained last month while visiting Gaddafi, on spurious allegations of "illegal" activity.
When international ambassadors were finally able to visit the four, a couple of days ago, again their mediation was conducted through the military commanders of Zintan.
It is only after intense diplomatic efforts that the four were finally released on Monday.
In many parts of Libya, particularly outside the main cities, the weakness and inexperience of the new Libyan state is all too apparent.
Even in the birthplace of the revolution, Benghazi, the interim government is fighting its own battles, trying to contain Islamist extremists.
In recent months, there have been several brazen daytime attacks on "symbols" of Western influence - allied war cemeteries, the British ambassador's convoy, the UN and the International Red Cross.
It is not clear who is responsible but there are small, vocal groups here who say that democracy is incompatible with strict Sharia, or Islamic law.
Amid all of this Libya is preparing to hold its first national elections next week. Already delayed once, the vote will lead to the creation of a 200-member Assembly which will be tasked with drawing up a new constitution.
So should the elections be postponed again, amid all of the chaos and violence?
Not in the eyes of Ian Martin, the hugely experienced United Nations envoy to Libya.
Mr Martin certainly appreciates the seriousness of the attacks in Benghazi and the relative weakness of the state institutions, but he remains optimistic.
"There have been no elections of any sort in Libya for more than 40 years", the UN man told me in his well-guarded Tripoli compound.
"People here are hungry for change, and they're overwhelmingly supportive of the election process."
Libya has changed immeasurably since Col Gaddafi's downfall. There is, almost everywhere, a palpable sense of freedom and openness. No-one here talks seriously of a return to the past.