Somali and Somaliland presidents meet in Dubai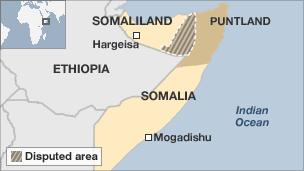 The presidents of Somalia and Somaliland have held their first formal talks since Somaliland broke away more than two decades ago.
The meeting, in Dubai, followed talks in Britain where their representatives discussed ways of clarifying their relationship.
The two men, Sheikh Sharif Sheikh Ahmed and Ahmed Silanyo, said steps have been taken to continue the dialogue.
Mogadishu wants Somaliland to be part of a single Somali state.
But the northern territory, which broke away in 1991, wants to be a separate country and is awaiting international recognition.
Since declaring independence, Somaliland has enjoyed relative peace in contrast to the rest of Somalia, which has been plagued by conflict.
The first formal direct contact in 21 years between the authorities in southern Somalia, formerly governed by Italy, and the Somaliland administration, which used to be a British colony, happened on 21 June near London.
Britain, Norway and the European Union have said they want the two sides to negotiate a settlement.
Somaliland agreed to enter into the talks during a February meeting in London, when 40 global leaders met to tackle piracy, terrorism and political instability in Somalia.
But its administration says its priority is to remain separate from the rest of Somalia - and wants Mogadishu to recognise its independence.
Somaliland unilaterally declared independence after the overthrow of Siad Barre - who led Somalia's last functioning national government.
It is relatively stable and holds regular elections which have seen peaceful transfers of power - unlike the rest of the country, which has been racked by continued conflict ever since.