Scott Gration: US ambassador to Kenya steps down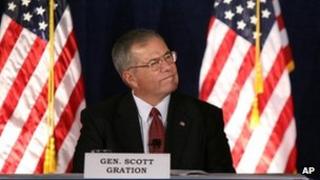 US envoy to Kenya Scott Gration has announced his resignation, citing "differences in leadership style and priorities" with Washington.
The former Air Force general provided no further details regarding the reasons for his decision.
His resignation takes effect on 28 July - just over a year after he took up the post in Nairobi.
Kenya is seen as a key strategic base for US forces fighting Islamist groups in the region.
Mr Gration, a former US special envoy to Sudan, has described being ambassador to Kenya as "his dream job", in which he got the opportunity to exploit his deep-rooted knowledge of the country and the Swahili language.
The ambassador's style has been described as discreet compared to his outspoken predecessor Michael Ranneberger, who had several public clashes with Kenyan officials.
Kenya sent troops to southern Somalia last year to fight the Islamist group al-Shabab, accusing its militants of carrying out attacks on Kenyan territory.