Tanzania's Jakaya Kikwete denies Steven Ulimboka 'torture'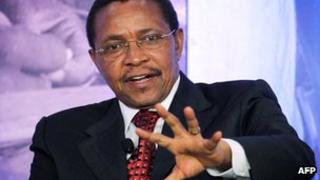 The president of Tanzania has dismissed reports that the government was behind the alleged kidnap and torture of the leader of a group of striking doctors.
Steven Ulimboka, chairman of the Medical Association of Tanzania, was allegedly abducted from his home last week, beaten and dumped in a forest near the main city, Dar es Salaam.
The striking doctors are demanding that their pay be tripled.
President Jakaya Kikwete said those unhappy with their pay should resign.
He said he was "shocked" by the suggestions that the government had organised the abduction of Dr Ulimboka.
One of the doctors treating him told the BBC that his fingernails had been pulled out.
Mr Kikwete said he had ordered an urgent investigation.
He also said that Tanzania could not afford to meet the doctors' demands to increase their pay from 950,000 shillings ($620; £390) a month, to 3.5m shillings, plus allowances.
"I urge doctors to end the strike and return to work. Your fellow Tanzanians are suffering and losing their lives," he said.