Will South Africa make prostitution legal?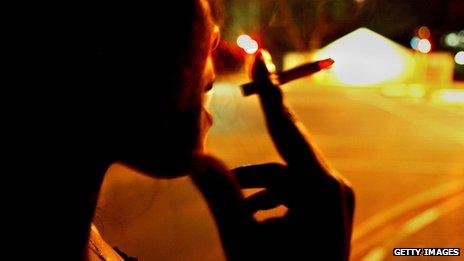 Will prostitution ever be decriminalised in South Africa? The women's league of the governing African National Congress party hopes so and it has claimed a victory which takes the country one step further towards legal soliciting, writes the BBC's Kate Forbes in Johannesburg.
Lilly, 32, has been working as a prostitute in Johannesburg for six years.
She puts her coffee cup down gently to avoid drawing attention, as she explains to me in a low voice what life is like as a prostitute on the city's very mean streets.
"I know of women caught on the streets by police who have been the victims of horrific humiliation," she says.
"Like spraying pepper spray on a woman's private parts, or forcing her to stand naked while they take photos.
"You can't make a complaint because you'll be arrested and prosecuted for being a sex worker. You have no rights."
Lilly and her peers embody the argument for decriminalising prostitution in South Africa.
A conservative society and unsympathetic police force leave women and men in the sex industry with few rights when things go wrong.
However, the ANC Women's League (ANCWL) has just won a key victory to change things for men and women like Lilly.
The principle of decriminalisation was adopted at the recent ANC's policy conference, which sets it on track for approval when the party meets again to decide national policy in December.
Hlengiwe Mkhize, the group's treasurer and South Africa's deputy minister of economic development, laughs when asked if this is a new direction for the women's league.
They are working hard to shake off a sometimes unfair reputation for being benign church-going ladies who let the rest of the ANC do the talking.
"Yes, it may be seen as an unexpected move from us, but we have seen that there is a need to protect women, and that this agenda is not being addressed," she says.
"We made a decision that [prostitutes] are women too, and need protection.
"There is no context here that protects women's rights; there are no special laws, we don't have shelters for vulnerable women and there isn't a network of help for them."
It is the women's league's aim to help women "reclaim their dignity", she says.
"The money we spend harassing and criminalising them could be spent retraining or re-orienting them."
So does the decriminalisation debate show that women in South Africa are becoming more able to steer the political debate?
Before the first free elections in 1994, the ANCWL was told that it should not be campaigning for women's rights but focus on the national liberation struggle instead.
After 1994, the group has achieved victories such as the creation of a ministry for women, but the political landscape remains one dominated by men.
For a nation reborn on the principle of equality, South Africa has found it difficult to make that equality a reality for women.
Women earn less, have fewer opportunities and suffer high levels of rape and assault.
South Africa is traditionally Christian and conservative, and so the argument over supply and demand of sex workers is key to the debate here, as are concerns over the trafficking of women.
A friend of Lilly's, Sarah, also a prostitute, says that she thinks twice before reporting underage or trafficked women to the police.
"I don't want to get taken in by the police for soliciting," she says.
"It is really risky, so it's difficult to report. Sometimes you just mind your own business."
But for trade union group Fedusa, which represents workers across the racial spectrum in South Africa, decriminalisation misses the point.
"We think that decriminalising prostitution will encourage supply, which will in turn encourage demand," says Dennis George, the union's general secretary.
"If there is bad policing let's tackle that," he says emphatically, speaking to the BBC as he runs between meetings.
"We know it's an industry as old as the mountains but that doesn't mean we have to live with it."
Trade unions are hugely influential in politics in South Africa, and so Fedusa's opposition is important.
However, an even bigger union grouping, Cosatu, has lent its support to the women's league on this issue, and so the months leading up to December will see fierce debate on whether prostitution will eventually become decriminalised.
Change for women like Lilly is on the horizon, although it may not be soon.
"We have strengthened our position and we're going to use that to strengthen the position of women who are some of the most disadvantaged in our society," says Ms Mkhize.
"We are on track for change".
Related Internet Links
The BBC is not responsible for the content of external sites.