Kenya musicians charged with hate speech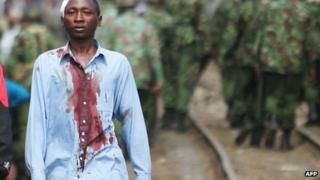 Three well-known Kenyan musicians have been charged with inciting ethnic violence through their songs.
The Kikuyu-language lyrics are in support of Uhuru Kenyatta, a Kikuyu politician and deputy prime minister.
The charges have been brought by the National Cohesion and Integration Commission (NCIC), set up after deadly post-election violence in 2008.
Mr Kenyatta says he has no links to the musicians, who all deny the charges.
Mr Kenyatta - a son of Kenya's first leader Jomo Kenyatta - is facing trial at the International Criminal Court (ICC) in connection with the election violence.
He is one of four prominent Kenyans named by the ICC, who all deny their roles in the crisis.
Allegations of electoral fraud ignited ethnic tensions after the December 2007 poll, leading to the deaths of some 1,300 people and forcing some 300,000 from their homes.
One of the ICC accused is Joshua arap Sang, a presenter on a Kalenjin-language radio station alleged to have whipped up ethnic hatred on the airwaves in Eldoret where ethnic Kikuyus were run out of town.
The violence ended with a coalition government with incumbent Mwai Kibaki remaining president and his rival Raila Odinga becoming prime minister.
'Insulting and threatening'
The BBC's Noel Mwakugu in the capital, Nairobi, says the NCIC decided to open an investigation into the songs after complaints were received that they were enjoying air time on some radio stations and in local pubs ahead of elections due next year.
The songs - by Kamande Wa Kioi, Muigai Wa Njoroge and John DeMathew - allegedly incite hatred between the Kikuyu people and the Luo community of Prime Minister Odinga.
Both Mr Uhuru and Mr Odinga are running for president in the next elections.
The musicians' lawyer Gichuki Kingara said it was wrong for the court to be applying a "criminal interpretation to artistic works", AFP news agency reports.
NCIC chairman Mzalendo Kibunjia told the BBC's Focus on Africa programme that the songs, full of metaphors and references to Kikuyu mythology, could be interpreted as "insulting and threatening".
He said the lyrics of one song pose questions about what to do if, for example, someone takes you to The Hague or takes your wife or property - the reply in the song is "kill him".
Mr Kibunjia said it also made reference to "finishing" someone who is uncircumcised, a possible reference to Luos as traditionally most Kikuyu men are circumcised.
"I'm worried about the possibility of many, many more songs coming out in different languages also intimidating, insulting, threatening other communities, using metaphors considering that every time we have elections in Kenya we do two things for sure: We kill each other and also we kill our economy," he said.
If found guilty, the musicians, who have been released on bail, may face a three-year jail term or a fine of about $12,000 (£7,690).