Tunisia media commission resigns over press freedom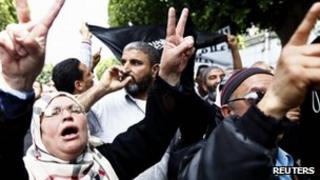 The Tunisian commission tasked with reforming the country's media has resigned, citing government censorship.
Kamel Labidi, head of The National Authority for the Reform of Information and Communication, said it "does not see the point in continuing its work".
The body was created to draft new media laws after the fall of the former regime in 2011.
But the new democratically-elected Islamist government has been accused of returning to old, repressive ways.
Referring to the recent dismissal of heads of state-owned radio and TV channels by the government, media rights watchdog Reporters Without Borders said on Tuesday:
"In the absence of clear legislation respecting international standards, senior public broadcasting personnel are being appointed in a way reminiscent of the old regime's methods."
'Censorship and disinformation'
Announcing the shutting down of the independent media commission, Kamel Labidi accused the government of failing to take any concrete action to improve press freedom and implement new media laws.
In particular, both the commission and Reporters Without Borders have expressed concern about the government's failure to implement decrees 115 and 116, which are designed to ensure the protection of journalists and provide the basis for regulating new audio-visual media.
"The body warns of the gravity of the situation in the realm of information and accuses the government of reverting to forms of censorship and disinformation," Mr Labidi said.
The Tunisian authorities have yet to respond to the disbanding of The National Authority for the Reform of Information and Communication.
In May, culture minister Mehdi Mabrouk told the BBC that "the space allocated to culture within our government is safe from state interference".
Some Tunisian artists, journalists and liberals have complained that although the country is now more democratic, it is also more culturally and socially conservative.
The Islamist Ennahda party dominates the government and ultra-conservative Salafi Muslims have been gaining in strength since the fall of Zine el-Abidine Ben Ali's regime in January 2011.
In a high-profile case, the owner of a private Tunisian TV station was recently fined for showing an animated film denounced as blasphemous by radical Muslims because it depicted Allah.
Parts of the country also saw days of rioting by Salafis in June, after the opening of an art exhibition they said insulted Islam.