Olympics 2012: Nigeria bans government delegation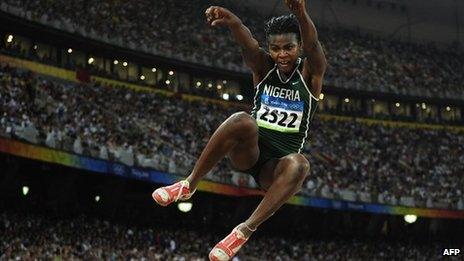 Nigeria will not be sending an official government delegation to the Olympic Games in London, Sports Minister Bolaji Abdullahi has said.
The move was to cut costs and stop the jamborees of the past, he said.
The BBC's Oluwashina Okeleji in Lagos says official sporting entourages are usually huge and have come in for much criticism recently.
The officials often have little or nothing to do with the sport they are travelling to support, he says.
The sports minister said the unprecedented move was also intended to keep athletes focused.
"What we are doing is that we are taking all reasonable measures to ensure that every single person going to the Olympics has a business in the Olympics," Mr Abudallahi told reporters.
Any Nigerian state governor spotted in London between 27 July and 2 August would be at the Olympics in a personal capacity, he said.
Our reporter says an anti-corruption investigation was launched after the 2010 football World Cup because of the exorbitant bill for officials who travelled to South Africa.
When Nigeria's football team travels, the delegation is often much larger in number than the team and it expands several times over if the Super Eagles progress in the competition, he says.
Related Internet Links
The BBC is not responsible for the content of external sites.