Mali interim government urged by Ecowas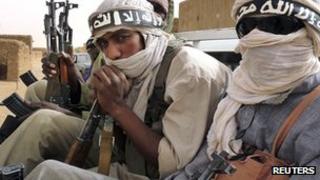 A summit of Western African leaders has called for a national unity government to end the political crisis gripping Mali since a military coup in March.
The regional bloc, Ecowas, also urged Mali to request international military intervention to win back the country's rebel-held north.
The area was seized by Islamist and Tuareg rebels after the March coup.
Since then, a shaky interim government has been formed in Mali, but the coup leaders remain powerful.
The Ecowas summit also called for the International Criminal Court to investigate alleged war crimes committed by the rebels in the north.
The meeting in Ouagadougou - capital of neighbouring Burkina Faso - was attended by six regional heads of state.
In a statement, they urged Mali's interim President, Dioncounda Traore, to request that Ecowas and the UN authorise the deployment of an Ecowas force to restore order in the country.
Unstable
After the Islamist group Ansar Dine and Tuareg separatists overran more than half of Mali, coup leader Capt Amadou Sanogo agreed to hand over power to a civilian interim government, but stability has remained elusive.
President Traore, who is recovering in Paris from injuries sustained when he was beaten by coup supporters in May, was not present at the Ouagadougou summit.
Recently, the rebel alliance has ruptured, with Islamist fighters chasing Tuareg rebels out of several northern towns and imposing sharia law.
They have also prompted international alarm by damaging the shrines of Muslim saints, which they regard as un-Islamic, in the historic northern town of Mali.
The developments have prompted fears that Mali's north could turn into a haven for Islamist militants.