South Sudan anniversary: Salva Kiir focuses on economy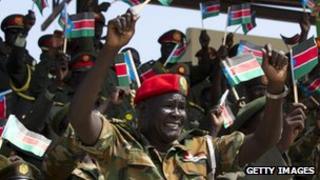 South Sudan's President Salva Kiir has said the world's newest country needs to be "independent economically" in his speech to mark the first anniversary of its independence.
Thousands of people danced and waved flags during official celebrations in the capital, Juba.
The BBC's Nyambura Wambugu, in Juba, says that few South Sudanese have seen much improvement in their lives.
But she says that most feel it has been a good year, despite the problems.
Our correspondent says it has also been a turbulent 12 months, with ethnic conflict in Jonglei State killing hundreds, conflict on the border with Sudan and a huge corruption scandal.
'Short man from Khartoum'
Mr Kiir told the crowd: "We still depend on others. Our liberty today is incomplete. We must be more than liberated. We have to be independent economically."
The official celebrations saw a military parade, featuring tanks and rocket launchers, while two helicopter flew South Sudan's flag over the heads of the cheering crowds.
UN head Ban Ki-moon had been expected but did not attend, reports the AFP news agency.
In a speech read on his behalf, Mr Ban said: "A lot has been achieved since independence, but a lot also needs to be done."
Uganda's President Yoweri Museveni said his country would support South Sudan in its struggle with "the short man from Khartoum" - seen as a reference to Sudan's President Omar al-Bashir.
Sudan's leader attended the independence celebrations a year ago but the two neighbours have since fallen out and Mr Kiir said Mr Bashir had declined an invitation, AFP reports.
When South Sudan seceded, it took 75% of the country's oil with it.
But the pipelines still run through Sudan and the former civil war enemies cannot agree on how much the South should pay in transit fees.
The dispute led South Sudan to cut off all oil exports, triggering a collapse in government revenues and tough austerity measures.
Both Sudan and the South are reliant on their oil revenues, which account for 98% of South Sudan's budget. But the two countries cannot agree how to divide the oil wealth of the former united state. Some 75% of the oil lies in the South but all the pipelines run north. It is feared that disputes over oil could lead the two neighbours to return to war.
Although they were united for many years, the two Sudans were always very different. The great divide is visible even from space, as this Nasa satellite image shows. The northern states are a blanket of desert, broken only by the fertile Nile corridor. South Sudan is covered by green swathes of grassland, swamps and tropical forest.
Sudan's arid north is mainly home to Arabic-speaking Muslims. But in South Sudan there is no dominant culture. The Dinkas and the Nuers are the largest of more than 200 ethnic groups, each with its own languages and traditional beliefs, alongside Christianity and Islam.
The health inequalities in Sudan are illustrated by infant mortality rates. In South Sudan, one in 10 children die before their first birthday. Whereas in the more developed northern states, such as Gezira and White Nile, half of those children would be expected to survive.
The gulf in water resources between north and south is stark. In Khartoum, River Nile, and Gezira states, two-thirds of people have access to piped drinking water and pit latrines. In the south, boreholes and unprotected wells are the main drinking sources. More than 80% of southerners have no toilet facilities whatsoever.
Throughout the two Sudans, access to primary school education is strongly linked to household earnings. In the poorest parts of the south, less than 1% of children finish primary school. Whereas in the wealthier north, up to 50% of children complete primary level education.
Conflict and poverty are the main causes of food insecurity in both countries. In Sudan, many of the residents of war-affected Darfur and the border states of Blue Nile and South Kordofan, depend on food aid. The UN said about 2.8m people in South Sudan would require food aid in 2013. The northern states tend to be wealthier, more urbanised and less reliant on agriculture.