African migrants sailing to Italy 'die of thirst'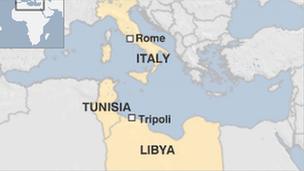 Fifty four people have died while trying to sail from Libya to Italy in an inflatable boat, the United Nations refugee agency has said.
The only survivor, found by Tunisian fishermen, said the others had died of dehydration during a 15-day voyage.
He told UNHCR officials that they nearly reached the Italian coast, but were driven back by strong winds, and the boat then began to deflate.
Most of the passengers are thought to have been from Eritrea.
The survivor, also an Eritrean national, was rescued by fishermen off the Tunisian cost and is now being treated in a Tunisian hospital.
He told the UNHCR that the group of 55 people left Libya towards the end of June.
"He told us that there were immediately problems on the boat, that unfortunately they weren't even allowed to take a bottle of water and so once they got lost and the voyage went on, people started to feel unwell and die because of the lack of water," UN spokeswoman Laura Boldrini told Italy's SkyTG24 TV.
According to the UNHCR, around 170 people have died this year trying to reach Europe from Libya.
An estimated 1,300 have reached Italy by sea since the beginning of 2012.
Many Eritreans attempt risky journeys to reach Europe or Israel in search of better opportunities.
Critics say they are fleeing the country's repressive government, poverty and national service for men until the age of 40.
Related Internet Links
The BBC is not responsible for the content of external sites.